In this article, we explore the realm of resin 3D printing, offering insights into the best choices for 2024. Whether you're a beginner or a seasoned maker, discover how resin printer can revolutionize your projects and creations. At Creality, we're committed to delivering cutting-edge technology, and in the world of 3D printing, resin printers have taken precision and detail to new heights.
Part 1: How do Resin Printers Work?
Resin 3D printers, such as stereolithography (SLA) and digital light processing (DLP) printers, operate using photopolymerization. These printers use a liquid photopolymer resin as their raw material, housed in a reservoir beneath the build platform.
The 3D printing process proceeds layer by layer. A UV laser or digital projector selectively solidifies the resin according to a 2D cross-section from the design. The build platform incrementally rises, accommodating the curing of each layer. Depending on the design, support structures might be used. Post-processing, including cleaning and sometimes UV curing, is necessary before obtaining a highly detailed 3D object. Resin printers are ideal for intricate applications like jewelry, dentistry, and engineering.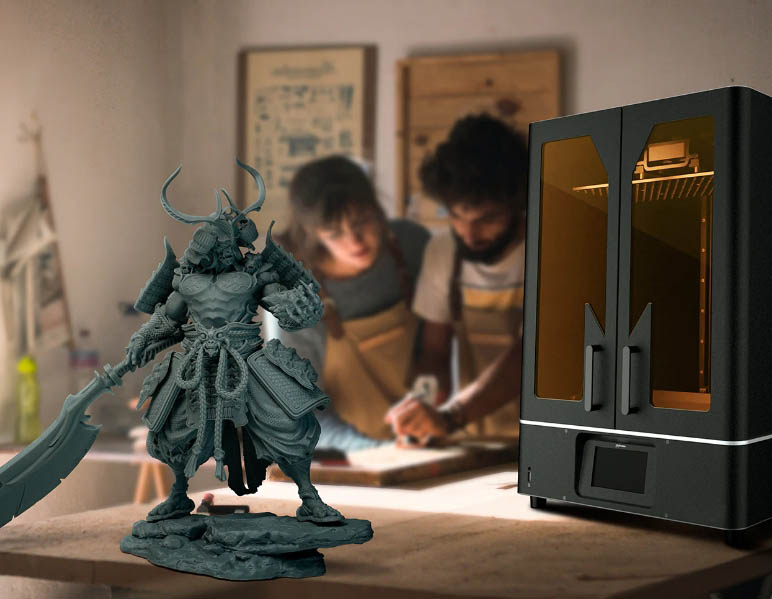 Part 2: Top Resin 3D Printers for 2023
Beginners: HALOT-ONE PRO Resin 3D Printer
We recommend the HALOT-ONE PRO Resin 3D Printer for beginners who want to dive into resin 3D printing. Here's why:
Key Features:
Large Build Volume: With a 130122160mm build size, it allows you to create a variety of objects, offering a 36% volume increase compared to 6-inch LCD printers.
Integral Light Source: Its self-developed integral light source with a wavelength of 405nm ensures even and precise lighting, resulting in higher precision prints.
Stable Z-Axis: The dual linear railways and T-shape screw rod on the Z-axis ensure accurate and steady movement, reducing layer texture and ensuring perfect prints.
Powerful CPU: Equipped with a 64-bit quad-core CPU/GPU, it efficiently processes data and images, handling various models with ease.
User-Friendly Touch Screen: The 5-inch touch screen with a brand new UI interface supports 14 languages, making it easy to use.
Air Filtration & Leveling: An air filtration system with activated carbon removes resin odors, and the 3-step leveling system enhances print success.
The HALOT-ONE PRO combines these features with reliable build quality and multiple slicing software compatibility, making it an excellent choice for those new to resin 3D printing. Enjoy hassle-free firmware updates, Creality Cloud App support, and a wide selection of compatible resins, including dental model resin. With even lighting, user-friendly controls, and air filtration, it's a perfect entry point for beginners in 3D resin printing.
Pros
Large build volume

Even and precise integral light source

Stable Z-axis

Powerful quad-core CPU/GPU

User-friendly touch screen

Air filtration and leveling

Multiple slicing software compatibility
Cons
Limited build size

Initial cost
Under $100: LD-002H Resin 3D Printer
For budget-conscious individuals seeking a cost-effective 3D printing solution, the LD-002H Resin 3D Printer is a prime choice, priced at less than $100. Here's what makes it a standout option:
Key Features:
Advanced Technology: This Creality LD-002H Resin 3D Printer is equipped with a 6.08-inch 2K monochrome LCD with a high resolution of 2560x1620. It offers speedy 1-4 seconds per layer exposure, significantly enhancing your printing efficiency and saving time.
High Precision: With a UV integrated light source module and upgraded transmission system, this printer reaches a light source intensity of 8000uw/cm², greatly improving printing precision and detail.
Air Filtration: It features an air filtration system with activated carbon, ensuring a fresh printing environment by absorbing exposed resin fumes.
User-Friendly Interface: The 3.5-inch full-color touch screen with an intuitive UI design allows you to monitor real-time printing information and operate the printer with ease.
Larger Printing Volume: With a build volume of 13082160mm, it allows you to print a variety of model sizes, making it suitable for different applications, from dental modules to sample printing.
The LD-002H is an excellent choice for those who are new to 3D resin printing or need an affordable yet reliable printer. It offers high precision, a user-friendly experience, and a larger printing volume, making it adaptable for various applications. Plus, with its air filtration system, you can enjoy a safer and more pleasant printing experience.
Pros
Affordable price.

Compact and space-saving.

Suitable for beginners.

Quick printing speed.

Decent print quality.

Quiet operation.
Cons
Limited print volume.

Lower resolution compared to 8K models.
Under $300: HALOT-MAGE 8K Resin 3D Printer
For those on the lookout for a 3D printer that combines advanced features with exceptional precision while staying within a budget of $300, I urge you to consider the HALOT-MAGE 8K Resin 3D Printer from Creality. It's a top choice for your 3D printing needs.
Key Features:
Impressive Specifications: With an extensive 10.3" LCD screen and a generous build volume of 228x128x230mm, this printer offers 45% more space than the typical 8.9" models. It achieves ultra-high precision with its 8K mono LCD boasting 33,177,600 pixels and 29.7μm XY resolution. This leads to breathtakingly detailed prints.
User-Friendly Design: The HALOT-MAGE includes an easy-to-operate flip lid with an orange transparent cover that blocks 99.89% of ambient UV light, ensuring safety and convenience, especially for beginners and kids. An integrated activated carbon filter makes the printing environment odor-free.
Rich Software and Support: It comes with the "halot box" software offering a 4-stage workflow and presets. Additionally, you'll receive a 3-month VIP subscription to Chitubox Pro for versatile slicing options. Creality provides excellent after-sales support with a 12-month service plan.
Versatile Applications: Whether you're into toy modeling, jewelry design, architectural models, or dentistry, this 3D printer can cater to various needs. It's compatible with both Windows and Mac operating systems and supports multiple file formats.
Upgrade your 3D printing capabilities and unlock your creativity with the HALOT-MAGE 8K Resin 3D Printer. It's an incredible value under $300 that's hard to beat in terms of features, precision, and support.
Pros
High 8K resolution for intricate details.

Larger build volume.

Improved print quality.

Increased precision.

Durable build.

High-quality prints for professional use.
Cons
Higher initial cost.

Requires more space compared to smaller models.
Under $600: HALOT-MAGE PRO 8K Resin 3D Printer
Looking for a high-quality 3D printer under $600? Look no further than the HALOT-MAGE PRO 8K Resin 3D Printer by Creality. Here are some compelling reasons to consider this exceptional 3D printer:
Key Features:
Expansive Printing Area: The HALOT-MAGE PRO features a spacious 10.3" LCD screen, providing a generous build volume of 228x128x230mm (8.97x5.03x9.05 inches). This is approximately 45% larger than traditional 8.9" resin printers, giving you ample space to bring your creative ideas to life.
Unparalleled Precision: With its 8K mono LCD boasting an impressive 8,000 x 4,320 pixel resolution and a 29.7μm XY resolution, this printer delivers exceptional detail. It's a substantial improvement over standard 4K resolution, ensuring that even the finest textures, like hair, fabric, and intricate organic shapes, are faithfully reproduced.
Innovative Integral Light Source: Creality has developed an integrated light source that offers precise and uniform light intensity across the entire screen. This results in rapid curing times, taking just 1-5 seconds per layer with standard 405nm resin. Your prints will be completed faster while maintaining intricate details.
User-Friendly Features: The HALOT-MAGE PRO is designed with user convenience in mind. The unique "MageArch" flip lid is easy to operate with one hand and provides a safe printing environment by blocking 99.89% of ambient UV light. An integrated activated carbon filter, 5.8 times larger than other filters, effectively eliminates resin odors and unpleasant fumes, ensuring a pleasant printing experience.
Creality's Commitment: Creality provides excellent after-sales service, backing this 3D printer with a 12-month warranty. If you have any questions or require support, their dedicated team is available to assist you promptly.
Experience 3D printing like never before with the HALOT-MAGE PRO 8K Resin 3D Printer. Its larger printing area, precision, and user-friendly features make it the ideal choice for enthusiasts, creators, and professionals looking to bring their designs to life with exceptional detail and efficiency.
Pros
8K resolution with advanced features.

Wi-Fi connectivity for remote control.

High-precision integral light source.

Enhanced build quality.

Reliable for complex projects.

Suitable for professionals and enthusiasts.
Cons
Premium price point.

May have a steeper learning curve for beginners.
Best Resin 3D Printer Overall: HALOT-SKY Resin 3D Printer
The Creality Halot-Sky Resin 3D Printer is a top-tier choice that offers a perfect balance of advanced features and affordability. With substantial savings of $410.00, this exceptional 3D printer is available at a fantastic price of $579.00. Here are six key features that make the Creality Halot-Sky a remarkable choice
Key Features:
Spacious Print Volume and High Resolution: With a generous build volume of 192 x 120 x 200 mm and an impressive 50-micron XY resolution (3840 x 2400 pixels), the Halot-Sky offers versatile printing capabilities with precise details.
Reinforced Z-Axis Structure: A sturdy Z-axis minimizes print failures and improves print accuracy. With an exceptional Z-axis accuracy of 0.01 mm, it can achieve a remarkable 10-micron layer height, meeting the standards of modern resin printers.
Advanced Light Source ("Super Spotlight"): The Halot-Sky boasts a self-developed "Super Spotlight" light source with 90% uniformity and a powerful 120W light source, promising even and high-quality prints.
Wi-Fi Connectivity: Wi-Fi connectivity enables remote print control and real-time monitoring. For those without Wi-Fi, files can be transferred via USB, enhancing convenience.
Powerful Cortex-A53 CPU: Equipped with a Cortex-A53 CPU, commonly found in smartphones and other electronics, the Halot-Sky ensures smooth and efficient printer operation.
"One-Click" Firmware Updates: Firmware updates are simplified with a one-click process, streamlining maintenance, and ensuring a hassle-free user experience.
With these advanced features, a 5-inch color touchscreen, a flip cover for cleanliness, and Wi-Fi connectivity, the Creality Halot-Sky is an excellent choice for resin 3D printing enthusiasts. Take advantage of this discounted offer and elevate your 3D printing projects with this outstanding 3D printer.
Pros
Affordable price.

Balanced features for hobbyists.

Compact design for small spaces.

User-friendly operation.

Wi-Fi connectivity.

Convenience and value for beginners.
Cons
Limited build volume.

May not meet the needs of advanced users.
Part 3: How to Pick the Best Resin 3D Printer?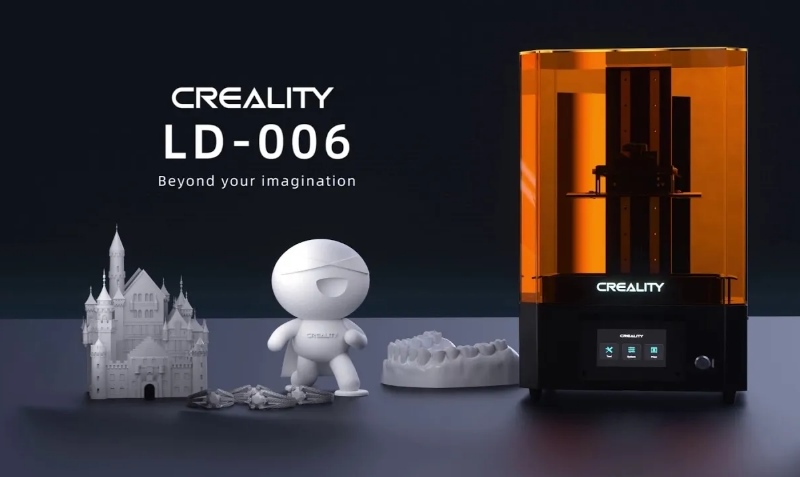 Choosing the right resin 3D printer can be a daunting task, given the multitude of options available. To simplify your decision-making process, here are key factors to consider when selecting the ideal resin 3D printer:
3.1: Resolution and Print Quality
LD-002H: Offers good print quality but with lower resolution, suited for basic needs.
HALOT-MAGE 8K: Boasts high 8K resolution for intricate, professional-grade prints.
HALOT-MAGE PRO 8K: Similar to the HALOT-MAGE 8K, it excels in print quality, ideal for pros.
HALOT-SKY: Balances price and quality, making it perfect for beginners and hobbyists.
3.2: Print Volume
LD-002H: Limited print volume, best for small projects.
HALOT-MAGE 8K: Provides a larger build volume for more significant 3D prints.
HALOT-MAGE PRO 8K: Offers ample print volume for professional and complex projects.
HALOT-SKY: Suitable for smaller prints due to its limited build volume.
3.3: Price and Budget
Consider your budget carefully, as there are affordable options like the LD-002H and HALOT-SKY, as well as premium models like the HALOT-MAGE 8K and HALOT-MAGE PRO 8K. Assess your needs and financial capacity before deciding.
3.4: User Experience
LD-002H: Beginner-friendly and straightforward.
HALOT-MAGE 8K: May have a steeper learning curve due to advanced features.
HALOT-MAGE PRO 8K: Combines advanced features with user-friendliness.
HALOT-SKY: Designed for easy operation, making it an excellent choice for novices.
3.5: Connectivity
LD-002H: Offers standard connectivity options.
HALOT-MAGE 8K: May have advanced connectivity options for remote control and monitoring.
HALOT-MAGE PRO 8K: Typically includes Wi-Fi connectivity, allowing for remote management.
HALOT-SKY: Provides modern connectivity features such as Wi-Fi for enhanced convenience.
3.6: Purpose and Intended Use
Determine your purpose as a beginner, hobbyist, professional, or enthusiast. The LD-002H and HALOT-SKY cater to beginners and hobbyists, while the HALOT-MAGE 8K and HALOT-MAGE PRO 8K are suitable for professionals and enthusiasts.
Conclusion
In summary, selecting the best resin 3D printer relies on your unique requirements and objectives. Thoroughly assess the factors mentioned above, factoring in your budget and intended applications. Whether you're just starting out or a seasoned enthusiast, there's a resin 3D printer that's perfect for you among the LD-002H, HALOT-MAGE 8K, HALOT-MAGE PRO 8K, and HALOT-SKY.