The Creality Black Friday Mega Sale, running from November 10th to 28th, offers incredible discounts of up to 80% on select Creality products. It's the perfect opportunity to secure Creality's sought-after 3D printers from the comfort of your home. Get ready for Black Friday with our tips and insights on making the most of these exceptional deals. Our team of experts is dedicated to keeping you informed about the best Black Friday 3D printer offers. With 3D printing's rapid growth, now is the ideal moment to dive in or upgrade your setup.
Be sure to bookmark this page for ongoing updates as we approach the big event on November 10th and enjoy early Black Friday 3D printer deals. For even more must-see tech deals, check out our guide to the best Black Friday deals of 2023.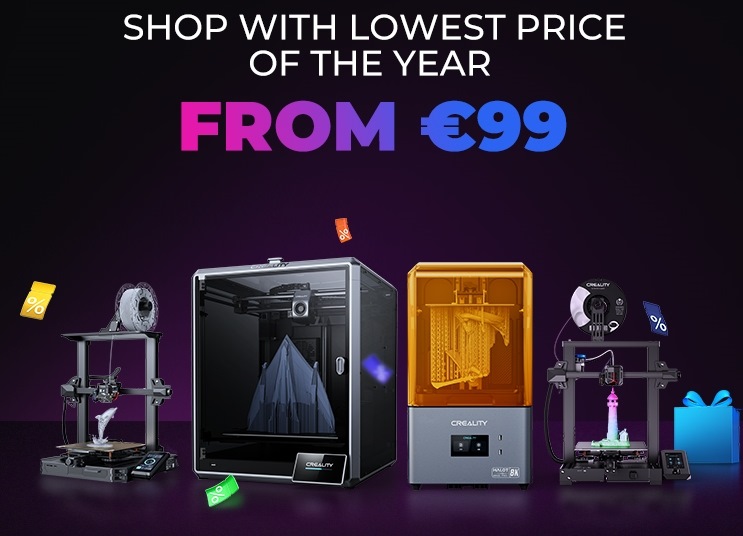 Part 1: Creality's Black Friday Extravaganza - Enjoy Up to 80% Off!
Admit it, Creality's latest printers are probably at the very top of your wishlist. Don't miss this golden chance to grab these incredible deals!
So, without further ado, let's explore what Creality has in stock for this year's Black Friday season!
Part 2: Exclusive Offers and Exciting Events
At Creality, our mission is to create an unforgettable Black Friday shopping experience for you. In addition to amazing discounts on our 3D printers, we've organized exclusive events to make the deal even sweeter.
2.1: Engage in the "Buy and Get" Activity
| Machines | Gifts |
| --- | --- |
| Halot Mage | High Precision UV Curable Resin 1kg *1 (Random Color) |
| Ender-5 S1 | PLA Filament 1kg*1 (Random series & color) |
| CR-5 Pro_H | PLA Filament 1kg *5 (Random series & color) |
| Halot One Plus 3D Printer | Standard Rigid LCD UV Resin 1kg (Random Color) |
| Sermoon V1 Pro | PLA Filament 1kg*5 (Random series & color) |
| 5W Laser Module | Acrylic Sheets *10 PCS |
| CR-6 Max | PLA Filament 1kg*1 (Random series & color) |
| CR-10 Smart Pro | PLA Filament 1kg*1 (Random series & color) |
| 5W Engraver | Engraver Raiser |
| CR-5 Pro | PLA Filament 1kg *3 (Random) |
2.2: Try Your Luck with the Lottery Wheel
Give our Black Friday Lottery Wheel a spin for a chance to win exciting prizes and add an extra layer of excitement to your shopping journey. With a 100% winning rate, everyone takes home a reward! The grand prize is a K1 Max AI Fast 3D Printer, and there are many more prizes in the pool, including:
K1 Max AI Fast 3D Printer
€5 no threshold coupons
Pack of 5 nozzles
PLA Filament
1.6W Laser Engraver Module
Ender-3
T-shirt
€10 coupon for order Over €50
€50 coupon for order over €500
2.3: Discounts Galore on Your Orders
For those looking to make substantial purchases, we've got you covered. This means even more savings on the high-quality 3D printers you've had your eye on.
For those who spend over €1299, we've prepared substantial discounts to enhance your savings:Get €50 off your order with Promo Code: BFCM50.
Spend €199 and enjoy €5 off with Promo Code: BFCM5.
If your order surpasses €399, get €10 off using Promo Code: BFCM10.
For orders over €599, take advantage of an €18 discount with Promo Code: BFCM18.
Spend €899 and receive €25 off using Promo Code: BFCM25.
Supercharge your 3D printing with Creality's Black Friday deals! Get started now and save big. (Don't forget to use coupon code at checkout). Buy Now>>
2.4: Win a €10,000 Cash Gift Card!
Absolutely, you've got it right! Between November 10th and 28th, when you spend $499 or more, you qualify for a share of €10,000 in gift cards!
We're feeling generous and giving you the chance to win shopping card rewards, providing you with substantial savings and the potential to elevate your Black Friday shopping experience with fantastic rewards. Don't let this amazing opportunity slip by – make your Black Friday shopping even more rewarding!
Part 3: Maximizing Your Creality Black Friday Experience
During this event, special offers are available in the following categories. To maximize your savings, be sure to apply any coupons and utilize the full discounts obtained from the Black Friday event before making your purchase.
Participating Event Categories:
Printers
Engraving Machines
Scanners
Material
To make the most of Creality's Black Friday event, consider these strategies:
3.1: Create Your Black Friday Wishlist
Before the event begins, take the time to explore our product range and create a wishlist of the 3D printers and accessories you desire. This will help you stay focused and avoid impulsive buying.
3.2: Dive into Exclusive Events
Participate in our exclusive events this Black Friday. Get gifts with your purchases, spin the Lottery Wheel for exciting prizes, and enjoy discounts on larger orders, with savings ranging from $5 to $50. Save big and maximize your rewards during this special shopping season. Don't miss out!
3.3: Stay Informed with Our Blog
Stay updated with the latest information, tips, and guides on navigating Creality's Black Friday event by checking our blog regularly. We're here to provide you with valuable insights throughout the event.
With these strategies, you can get the most out of Creality's Black Friday event, acquire the 3D printing products you've had your eye on, and enjoy a rewarding and pleasant shopping experience. Happy shopping!
Part 4: Unmissable Combination Promotions
For a more rewarding Black Friday shopping experience, we've curated product combinations that complement each other perfectly. These bundles not only elevate your 3D printing setup but also provide extra savings when bought together.
These combinations offer a convenient means to enhance your 3D printing configuration, ensuring you have all the essential tools and accessories for a successful and enjoyable 3D printing journey. Look out for these bundles during our Black Friday event to enjoy additional discounts and a seamless shopping experience.
Bonus :Creality's Black Friday events in each country
You can click on the respective links to access the Black Friday event pages for each country.
Conclusion
As Black Friday draws near, Creality is gearing up to provide an extraordinary shopping experience. With incredible discounts, exclusive events, and expert advice on 3D printers and accessories, this year's event is truly exceptional. Prepare your wishlist, stay informed, and set a budget. Whether you're a 3D printing enthusiast or a newcomer, seize the opportunity to upgrade your setup. Share the excitement, explore our discounted products, subscribe for real-time updates, and involve friends and family.
At Creality, we're dedicated to ensuring your Black Friday is unforgettable, offering savings and limitless possibilities in 3D printing. Mark your calendars and join us in celebrating Black Friday with style!