Introduction
In the realm of 3D printing, the spotlight is now on the Ender 3 V3 KE, a remarkable addition to the Creality family. This article is all about introducing the innovative Ender 3 V3 KE, highlighting its upgraded features, and showing you how it's poised to revolutionize your 3D printing experience. Join us on a journey through the standout enhancements and capabilities of this exciting new release. The Ender 3 V3 KE promises to be a game-changer in the world of 3D printing, and we're here to show you why.
Note: Ender 3 V3 KE is available for pre-order from 1st Nov. and the price will be the same on Black Friday! Buy early and enjoy early!
Ender 3 V3 KE New Arrival: Compared to Ender 3 V3 SE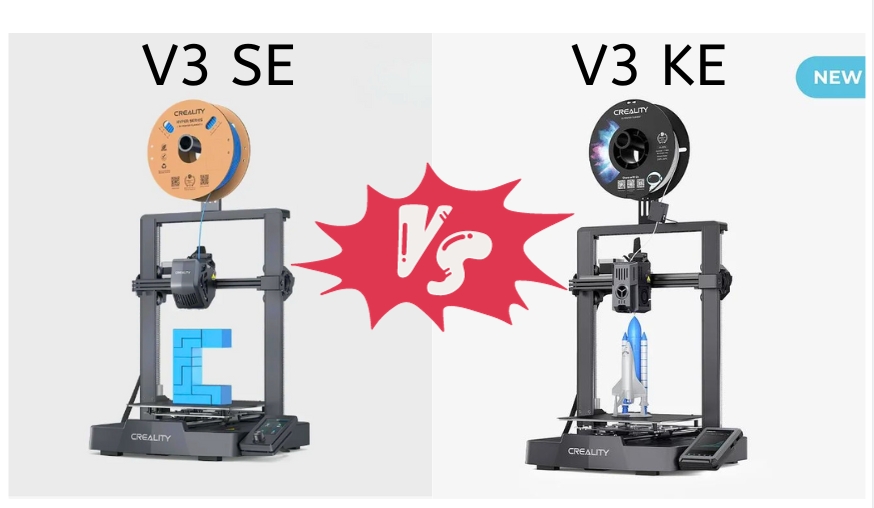 The Ender 3 V3 KE brings a host of compelling upgrades that set it apart from its predecessor, the Ender 3 V3 SE. This 3D printer is designed with the utmost precision and user-friendliness in mind. Have a quick look what the differences between KE and SE:
| | | |
| --- | --- | --- |
| Model | Ender-3 V3 SE | Ender-3 V3 KE |
| Printing Technology | FDM | FDM |
| Build Volume | 220*220*250mm | 220*220*240mm |
| Product Dimensions | 349*364*490mm | 433*366*490mm |
| Package Dimensions | 575*390*235mm | 502*409*280mm |
| Net Weight(kg) | 7.12kg | 7.8kg |
| Gross Weigh(kg) | 9.14kg | 9.9kg |
| Build Surface | PC Spring Steel | PC Spring Steel |
| Display Screen | 3.2'' Color Knob Screen | 4.3" color touch screen |
| Resume Printing | Yes | Yes |
| Filament Detector | No | Yes |
| Dual Z-axis | Yes | Yes |
| Leveling Mode | Auto | Auto |
| Mainboard | 32-bit | 32-bit |
| File Transfer | SD Card | USB drive, LAN, Creality Cloud APP |
| Supported Filaments | PLA/PETG/TPU(95A) | LA, PETG, ABS, TPU(95A), ASA |
| Heatbed Temperature | 100℃ | 100℃ |
| Nozzle Temperature | 260℃ | 300℃ |
| Rated Voltage | 100-120V~, 200-240V~, 50/60Hz | 100-120V~, 200-240V~, 50/60Hz |
| Voltage Base | 24V | 24V |
| Rated Power | 350W | 350W |
| Max. Printing Speed | 250mm/s * | 500mm/s |
| Typical Printing Speed | 180mm/s | 300mm/s |
| Max. Acceleration | 2500mm/s² | 8000mm/s² |
| Extruder Count | 1 | 1 |
| Nozzle Diameter | 0.4mm (default) | 0.4mm (default) |
| Layer Heigh | 0.1-0.35mm | 0.1-0.35mm |
| Printing Accuracy | ±0.1mm | ±0.1mm |
| Filament Diameter | 1.75mm | 1.75mm |
| Formats for Slicing | STL/OBJ/3MF/AMF | STL/OBJ/3MF/AMF |
| Slicing Software | Creality Print, Cura, Simplify3D | Creality Print, Cura, Simplify3D |
Ender 3 V3 KE Key Features
X-axis Linear Rail, Ultra-smooth Motion
The X-axis linear rail of the Ender 3 V3 KE 3D printer is an outstanding feature, featuring a carriage slide with precision ball bearings, ensuring precise, stable, and virtually frictionless motion (0.04 friction coefficient*). Constructed from robust steel, it remains as good as new even after extended use. This feature not only provides exceptional printing accuracy but also ensures stability and ultra-smooth motion throughout the printing process. Whether you're working on fine-detail prints or handling large-scale printing tasks, it effortlessly excels.
Smarter Firmware and Controller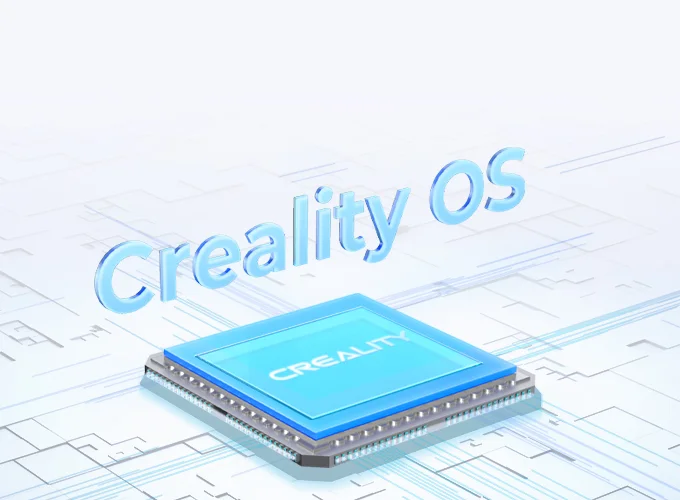 The Ender 3 V3 KE boasts significantly more advanced firmware than the Ender 3 V3 SE, with Creality referring to it as "Creality OS" . This firmware, built upon the open-source Klipper project, enables key features that enhance the overall user experience and print quality of the V3 KE.
One notable improvement is the implementation of smart algorithms, resulting in superior print quality. It effectively dampens the printer's vibrations, reducing the occurrence of ringing or ghosting on printed objects. Additionally, the motion advance feature optimizes filament flow, minimizing issues such as blobs and oozing during the printing process.
When it comes to the user interface, the KE stands out with its 4.3" touchscreen controller, which we find more preferable than the Ender 3 V3 SE's smaller 3.2" screen and knob controller. While both printers offer clean and informative interfaces, the KE takes the lead in displaying a greater amount of information more clearly, thanks to its advanced firmware.
Faster Printing Speed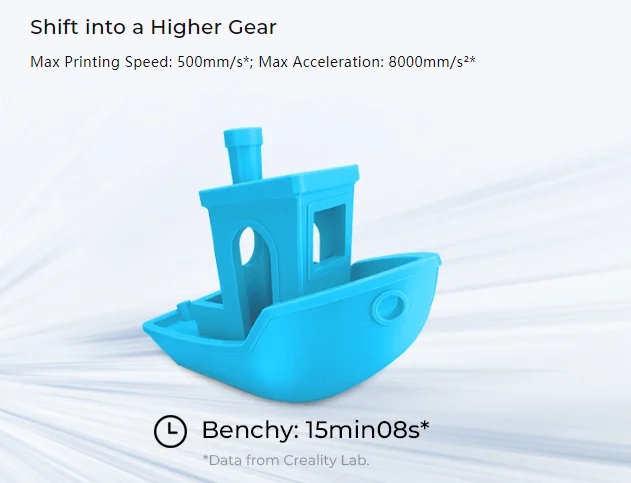 The Ender 3 V3 KE boasts an impressive maximum print speed when compared to the Ender 3 V3 SE. The KE offers a maximum printing speed of 500 mm/s and a typical speed of 300 mm/s, while the SE advertises a maximum print speed of 250 mm/s and a typical speed of 180 mm/s. It's important to note that while maximum print speeds can be ambitious and might lead to more printing imperfections, typical print speeds are generally more reliable. We conducted tests at the SE's typical 180 mm/s print speed and achieved prints of exceptional quality. So, while regularly hitting 500 mm/s with the KE may not be common, it undeniably outpaces the SE in terms of speed.
The KE achieves its higher speeds through a combination of firmware and hardware enhancements. As discussed in the firmware section above, the Ender 3 V3 KE utilizes a more advanced Klipper-based firmware, featuring functions that mitigate print defects when operating at high speeds. Moreover, the KE employs a linear rail for the X-axis, which minimizes vibrations and enables smoother carriage movement along the axis at high speeds. In contrast, the SE utilizes a conventional rubber wheel system for the X-axis.
In summary, if you require higher printing speeds and faster printing acceleration, the Ender-3 V3 KE may be the better choice. However, the specific choice should also consider other factors such as the type of printing materials, printing quality requirements, and budget. Different applications may require different printer performance characteristics.
Superior Hotend Support More Filaments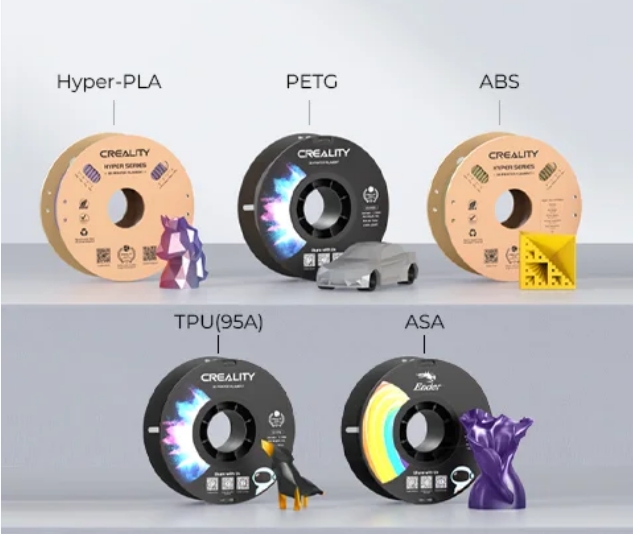 The hotend in the Ender-3 V3 SE offers a solid performance with a nozzle temperature limit of up to 260°C, along with a heatbed temperature limit of 100°C. This allows it to effectively print a variety of standard filaments including PLA, ABS, PETG, and TPU. However, it may not be suitable for high-temperature materials like nylon due to its lower temperature capability.
In contrast, the Ender-3 V3 KE features a substantially upgraded hotend, designed to meet more challenging printing requirements. It boasts a powerful 60W ceramic heater, a considerable increase from the 40W heater in the SE, which aids in efficient filament melting, especially for high-speed printing. The KE's hotend incorporates a bimetallic heatbreak, a technology known for reducing the risk of hotend jams, even though these printers are generally less prone to such issues because of their Sprite direct-drive extruders.
What truly sets the KE apart is its ability to reach higher nozzle temperatures, up to 300°C, opening the door to high-temperature filaments like nylon. Additionally, the KE's "volcano" style hotend design provides a larger heat zone, ensuring quicker filament heating, a key factor for high-speed printing.
For most users, the standard filament compatibility on either machine, such as PLA, should suffice. However, the Ender-3 V3 KE provides the added advantage of handling high-temperature filaments, offering a wider range of possibilities for 3D printing enthusiasts looking to explore various materials and applications.
More Ways of Printing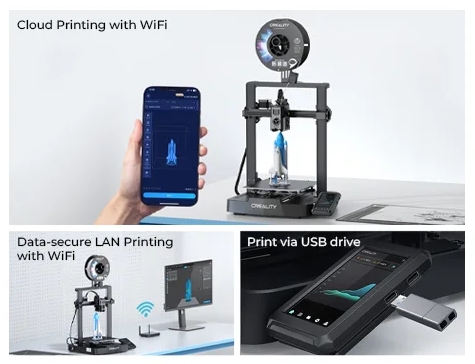 The Ender-3 V3 KE 3D Printer offers users three convenient ways to streamline their 3D printing experience. With this printer, you can take advantage of its versatile connectivity options:
USB Drive Printing: The printer allows you to print your 3D models via a USB drive. Simply load your .gcode files onto a USB drive and plug it into the printer. This straightforward method simplifies the process, eliminating the need for constant back-and-forth with your computer.
Data-Secure LAN Printing with WiFi: The Ender-3 V3 KE comes equipped with WiFi connectivity, which opens up new possibilities. You can securely connect your printer to your local network and control it remotely. This feature provides peace of mind for monitoring and managing your prints, all while maintaining data security.
Cloud Printing with WiFi: By leveraging the WiFi capabilities, you can also utilize cloud printing. This means you can access your printer and manage your 3D printing projects from your smartphone or computer via the cloud. The convenience of this feature is enhanced by the ability to load .gcode files wirelessly, eliminating the need for SD cards or USB cables.
Additionally, the printer supports a USB webcam, allowing you to keep an eye on your prints even when you're not in the same room. These added features may not be essential for 3D printing, but they certainly enhance the overall user experience. Loading files over WiFi, in particular, simplifies one of the common inconveniences associated with 3D printing, making the process more user-friendly and efficient.
Other Features You May Want to Know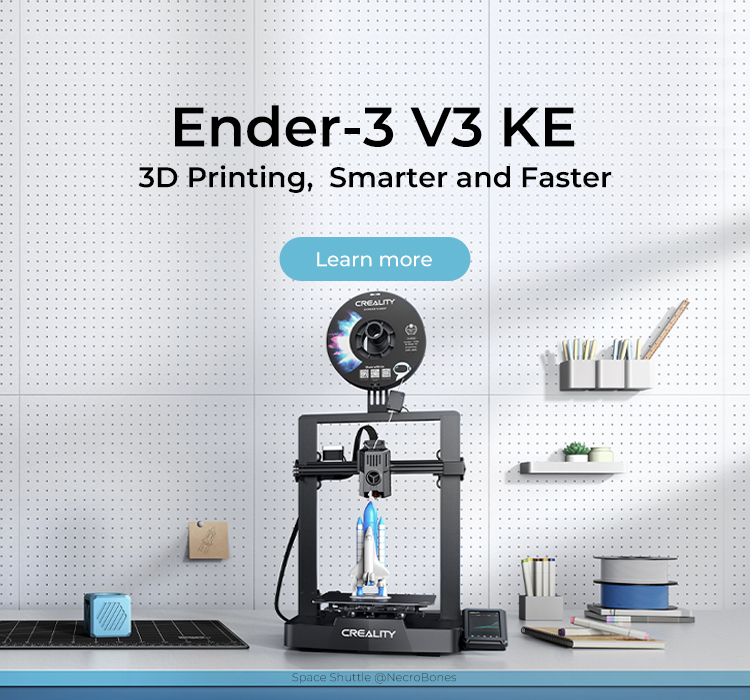 Double Fans for Rapid Model Cooling
The V3 KE features dual fans for rapid model cooling, with each side of the printhead equipped with a model cooling fan. These fans work in unison to provide quick and even cooling to each freshly printed section, preventing overheating and enhancing structural strength, thereby improving print quality and expediting the printing process, especially for larger or complex designs.
Get Started with Printing Effortlessly
The Ender 3 V3 KE 3D printer is designed for a seamless and user-friendly experience. Its quick assembly, one-tap self-test, and auto filament loading make setting up a breeze. With hands-free auto-leveling, leveling your print bed is a hassle-free process.
Conclusion
Can't wait to experience the future of 3D printing with the Ender 3 V3 KE? You can also subscribe to Creality's product notification service, ensuring that you'll be the first to know when this innovative printer is available.
And here's an exclusive tip: Join us on Facebook for live broadcasts during the product pre-sale period! You might just uncover some delightful surprises.
The Ender 3 V3 KE is poised to be a perfect choice in the 3D printing community, offering improved performance, a quiet printing experience, and the high-quality results Creality is known for. Don't miss out on this opportunity to take your 3D printing projects to the next level with the Ender 3 V3 KE. Pre-order now and be part of the 3D printing revolution! More ender series products you can find here.
To stay up to date with all the latest information about Creality's products, be sure to follow our official blog and keep an eye on official online store. This will help you stay in the loop about future releases and exciting developments in the world of 3D printing.