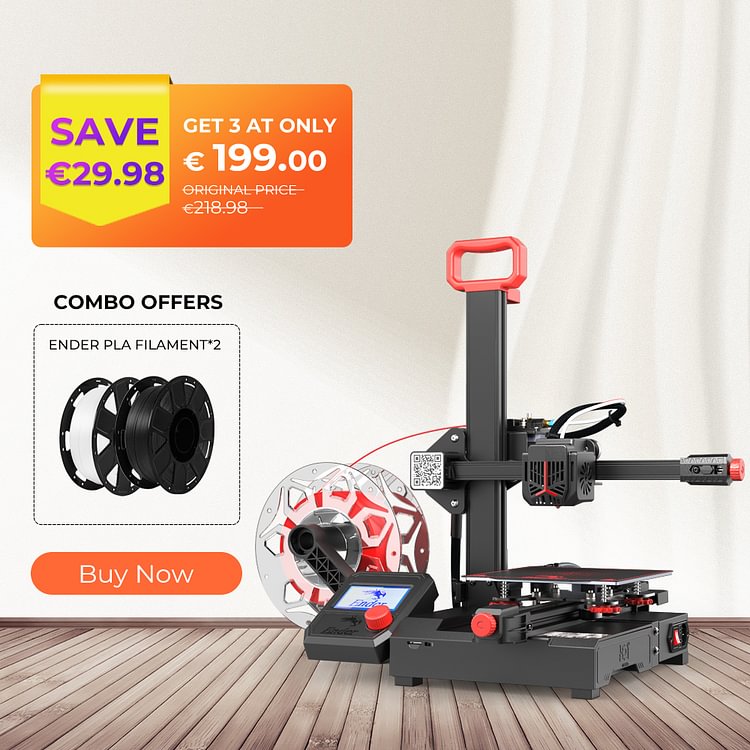 Take a Closer Look
Ender-2 Pro 3D Printer
Modeling Technology: FDM(Fused Deposition Modeling)
Printer dimensions: 421 x 383 x 465 mm
Build size: 165 x 165 x 180 mm
Leveling method: Manual leveling
Resume printing: Supported
Nozzle temperature: ≤ 260℃
Hotbed temperature: ≤ 80℃
Supported filament: PLA/TPU/WOOD
Printing speed: ≤ 100 mm/s.
Extrusion method: Bowden extruder
FAQ
1. Heat the spray head to 230 degrees Celsius and keep the same temperature to remove the spray head kit; and then remove the heating block and throat separately. After removing, the spray head can heat to the lower temperature.
2. Prepare a bottle of red glue (available from Taobao), apply the red glue to the thread of the throat, let it rest for 1 minute, then reinstall the throat and heating block, and then install the nozzle kit back to the original Bit;
3. If there is still the same issue, please contact the after-sales customer service.
1. Please check whether the temperature display on the display is normal room temperature without giving the heating command. If it is not, it is likely to be a thermal problem, just replace with a new one;
2. Measure whether the output voltage of the hot bed port of the main board is 24V under heating. If there is no voltage, it is a main board problem and need to be replaced with a new main board. Otherwise, it is likely to be a problem with the hot bed board itself and need to be replaced.
1. Slicing problem, the slicing is unsuccessful or not completely exported, just re-slicing or waiting for the export progress buffer to be completed.
2.The file transfer is interrupted during the SD card printing process, please replace the SD card or format it to have a try.
3.If it's still the same issue, please contact the after-sale customer service.
1. Clean the fan and check whether there is debris interference ;
2. Check whether the screws and fan cover are loose, and then re-fix it;
3. Check if the fan blade is damaged or broken, please replace a new fan.
Please heat the nozzle to 200 degrees Celsius at first; then use cutting pliers to cut and straighten the front end of the filament at a 45-degree angle; and then open the extrusion clamp, pass the filament into the extruder kit along the cut-off detection aperture;until the filaments flow out from the machine nozzle.