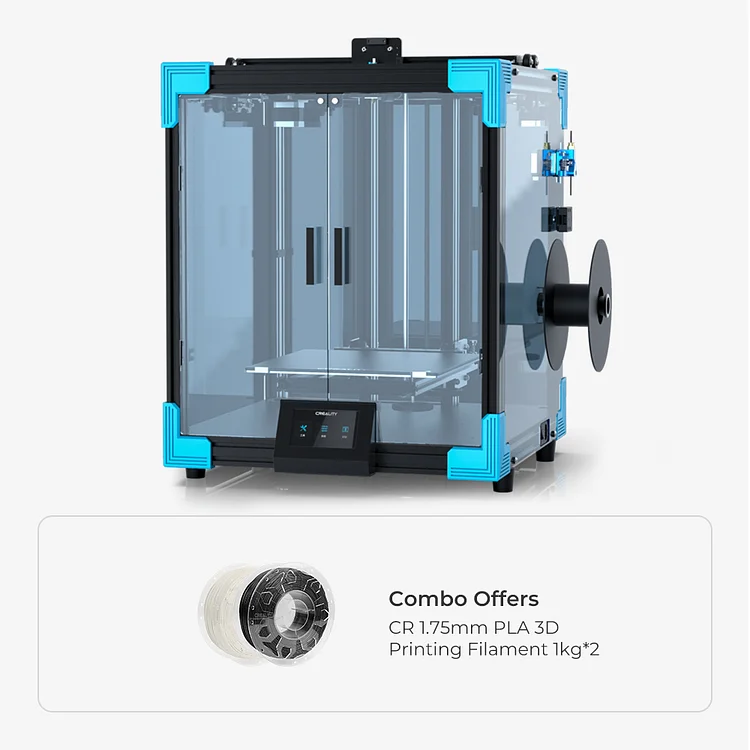 Take a Closer Look
Ender-6 3D Printer
Modeling Technology: FDM(Fused Deposition Modeling)
Print Size: 250x250x400mm
Supported OS: MAC, LINUX, WIN7/8/10
File Formats: STL, 3MF, AMF, OBJ, Gcode
Printing Material: PLA/TPU/Wood/Carbon Fiber, etc.
FAQ
Generally ranging from 30 to 60 minutes, it takes less time to get familiar.
X-axis limit switch is installed on the nozzle kit
It's a single nozzle structure, so it doesn't support two-color printing.
After turning on the power, please press the button of"boat" then it's okey.
The left side of the screen shows the nozzle temperature, the right side shows the hot bed temperature.
1. Heat the spray head to 230 degrees Celsius and keep the same temperature to remove the spray head kit; and then remove the heating block and throat separately. After removing, the spray head can heat to the lower temperature.
2. Prepare a bottle of red glue (available from Taobao), apply the red glue to the thread of the throat, let it rest for 1 minute, then reinstall the throat and heating block, and then install the nozzle kit back to the original Bit;
3. If there is still the same issue, please contact the after-sales customer service.
1. Please check whether the temperature display on the screen is normal room temperature without giving a heating command. If not, it is likely to be a thermal problem and replace it with a new one;
2. In the heating situation, test whether the output voltage of the nozzle port of the main board is 24V. If there is no voltage, it is the main board problem. You need to replace the new main board. Otherwise, it is likely to be a heating tube problem. You need to update the heating tube.
1. Clean the fan and check whether there is debris interference ;
2. Check whether the screws and fan cover are loose, and then re-fix it;
3. Check if the fan blade is damaged or broken, please replace a new fan.
1. Slicing problem, the slicing is unsuccessful or not completely exported, just re-slicing or waiting for the export progress buffer to be completed.
2.The file transfer is interrupted during the SD card printing process, please replace the SD card or format it to have a try.
3.If it's still the same issue, please contact the after-sale customer service.
1. Confirm whether it is installed on the C drive of the computer;
2. The software is incompatible with the computer system, try again after replacing other software.
No, it's the carbon silicon crystal glass plate.
Yes, it does.There is a reserved BLtouch interface on the motherboard, but BLtouch needs to be purchased separately.