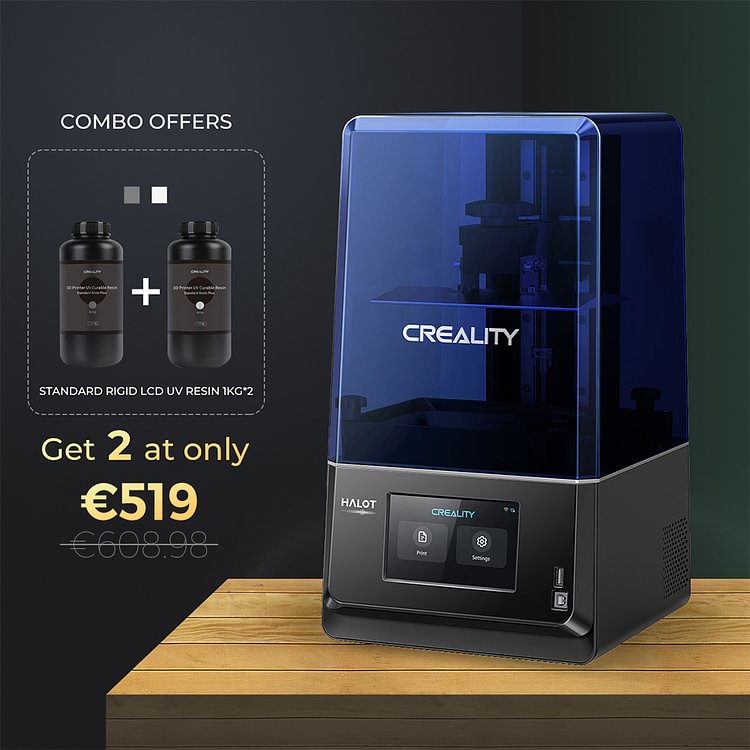 Take a Closer Look
Specifications
Model Name: HALOT-ONE PLUS
Machine Language: Chinese, English, German, French, Spanish, Japanese, Portuguese, Korean, Russian, Italian, Dutch, Polish, Turkish
Print Method: USB Disk,Creality Cloud App, Creality Cloud Online, WiFi Print
XY Axis Resolution: 4320*2560
Layer Thickness: 0.01-0.2mm
Print Speed: 1-4s/layer
Build Size: 172*102*160mm
XY Axis Accuracy: 0.04mm
Light Source Type:Integral Light Source(wavelength 405nm)
Touch Screen: 5 inch touch screen
Rated Voltage: 100-240Va.c 50/60Hz
Slicing Software:HALOT BOX,Lychee Slicer,CHITU BOX
Compatible Resin: Common rigid photosensitive ,Standard resin ,High hardness ,High toughness ,Dental model resin
Gross Weight: 8.6kg
Net weight:6.8kg
Model Name: Standard Rigid LCD UV Resin
Applicable Wavelength: 405nm
Density: 1.14g/cm³
Molding surface hardness: 85-90D
Model Name: UW-02
Washing Size: 240*160*200mm
Curing Size: Φ200*300mm
UV Lamps: 405nm12pieces+385nm12pieces
Mode: Wash/Cure
Time: 2-30min
Speed: Quick/Normal
Control method: Touch button, LED indicator
Rated Voltage: DC24V
Rated Power: 60W
Net Weight: 8.0kg
Gross Weight: 10.0kg
Package Size: 425*395*545mm
Machine Size: 325*295*485mm
Machine language: Chinese/English
FAQ
Yes,it works right out of the box with minimal set-up.super simple for a beginner
No need , this resin printer is an all-in-one machine
You just need to cover the protective cover. The red cover can isolate the UV light and protect you.
If you want to clean the plate, you can reserve a layer of resin just to completely cover the bottom, and then start the cleaning function, the plate will be cleaned perfectly.
Yes, Both ordinary rigid photosensitive resin and standard resin can be used, as well as water-washable resin
The Halot one does NOT have curing capabilities. You can sun cure or do like I did and buy a separate curing unit.
Please turn off the machine when you do not want to continous to print the models.
When not printing for a short time, please cover the acrylic cover to avoid exposure to UV light. When not printing for a long time, it's better to recycle to resin bottle. It is recommended to use it within 3 months after opening.
In the firmware settings -> print settings -> Z-axis movement ->click leveling/Return to zero / control the movement of the Z axis
Open the system interface of the machine, select Settings->cleaning function, and check whether the light is normal (the normal light is a brighter purple light, and the rest are abnormal). If it is difficult to judge by yourself, you can contact the A&S for assistance.
The machine has been adjusted after production, it does not need to level again. Of course, you can also remove the resin vat, let the machine Z-axis back to zero, and check whether there is a gap between the platform and screen. For more detials, please refer to the quick guide or Leveling part in unbox video.
It is not recommended for the elderly and children to use, to avoid resin getting into the nose and mouth, which may cause safety accidents.
Supported, you can download on the official slicing software website.
HALOT BOX:https://www.creality.com/download)
CHITUBOX:https://www.chitubox.com/zh-Hans/index
LycheeSlicer:https://lychee.mango3d.io/