"Jingle bell, jingle bell, jingle all the way!" Christmas is upon us! The festive spirit is ringing, and it's the perfect time to dive into the world of 3D printed Christmas gifts! In a world where personalization and creativity reign supreme, selecting Christmas gifts for her/him becomes an enchanting journey. Join the merry chorus of 3D printed wonders that infuse the magic of Christmas into each carefully crafted item. Let's explore how these gifts, tailored to the holiday spirit, add a special kind of joy and uniqueness to the season of giving.
Best 3D Printed Christmas Gift Ideas
1. Christmas Tree Ornaments
Spice up your Christmas tree with a dash of 3D printed magic! Skip the ordinary and opt for extraordinary decorations. Want lights that outsparkle the North Star? 3D print custom shapes — snowflakes, stars, snowman, or even a mini Santa — to illuminate your tree in style. Say goodbye to traditional baubles; design your own! Craft reindeer, family initials, or even your pet in a Santa hat.
Where to find it? Get these unique designs at CrealityCloud. It's like Santa's workshop for DIY enthusiasts.
How printable/popular is it? This model has been downloaded nearly 700 times and has 2.4K views.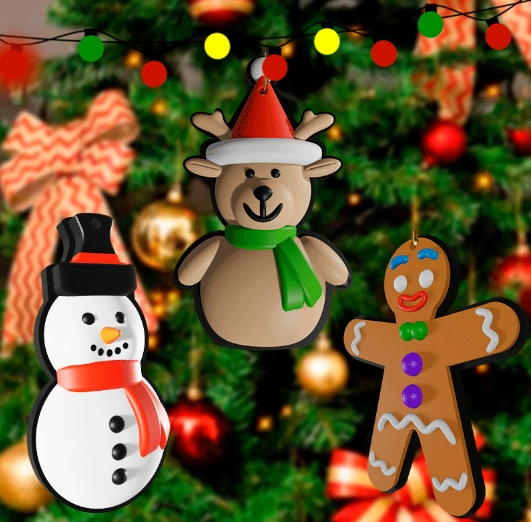 2. Reindeer-themed Decor
Step into a winter wonderland with 3D printed reindeer-themed decorations that will transform your holiday home into a whimsical haven. Imagine your mantle adorned with intricately designed candlesticks, each featuring a majestic reindeer dancing around a flickering flame. Available in a variety of poses and sizes, these reindeer statues add a playful elegance to your decor. The silhouette of the antlers subtly catches the light, adding a touch of glamour to your seasonal gatherings. Place them on a shelf or tabletop and watch them become conversation starters, each telling a story of winter charm.
Where to find Holiday Christmas Deer? Thingiverse
How printable/popular is it? With over 11,000 likes and 304 successful makes.
3. Festive Cookie Cutters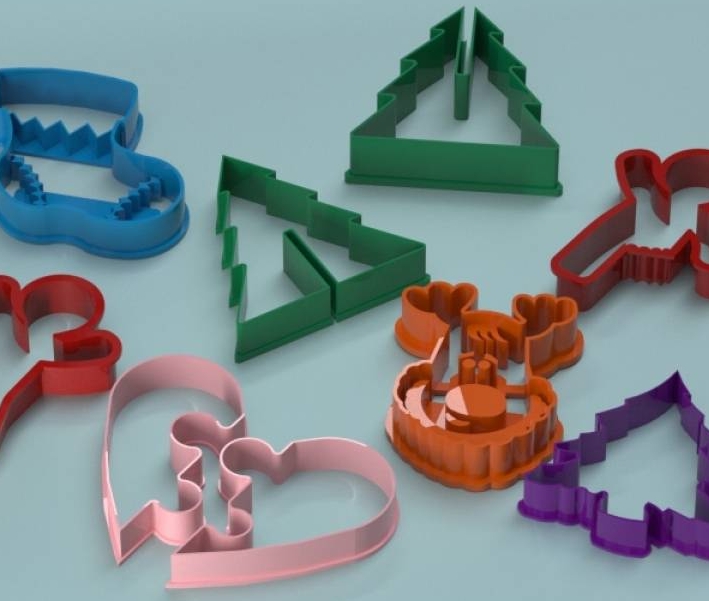 Make holiday baking even more fun by adding custom 3D-printed cookie cutters to your kitchen-especially for the little ones. Imagine their faces lighting up as they use these special molds to create cookies shaped like snowflakes, reindeer, Santa Claus, and Christmas trees. These uniquely designed tools turn baking into a delightful adventure, allowing kids to create cookies that embody the true essence of the season. Explore the magic of these 3D printed designs and make baking moments an absolute joy for kids as they immerse themselves in the fun of creating holiday-themed treats. That's the perfect Christmas gifts for kids.
Where to find it? MyMiniFactory
How printable/popular is it? With over 11,784 views and 394 likes.
4. 3D Printed Puzzles
Get into the holiday spirit by immersing yourself in the fun of family games with custom 3D printed puzzles. Imagine gathering around and piecing together holiday-themed images like Santa Claus, Christmas Village, Train, or cheerful reindeer. These personalized puzzles not only add a touch of uniqueness to gifts, but also create precious moments of togetherness during the holiday season. Experience the joy of bonding over these interactive 3D printed puzzles and make Christmas a time of shared fun and enjoyment as the family comes together to unlock the magic of the season.
Where to find it? MyMiniFactory
How printable/popular is it? With over 21,231 views and 3,492 downloads.
5. Holiday-themed Keychains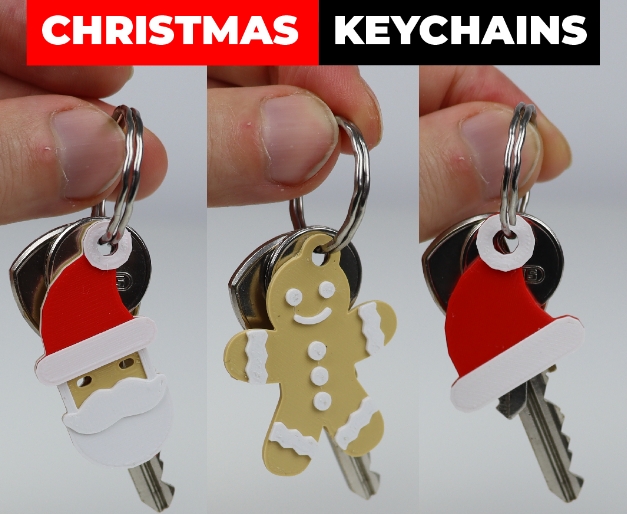 Fashion delightful keychains adorned with tiny Christmas elements — mini stockings, snowmen, or candy canes. These charming accessories make perfect stocking stuffers or thoughtful surprises for friends and family. Share the holiday spirit with every jingle of the keys.
Where to find it? Creality Cloud
6. Snowflake-inspired Jewelry
Enhance her holiday style with beautifully crafted snowflake earrings or pendants. An elegant gift, perfect for that special woman, especially mom, to add a touch of winter sophistication to her holiday wardrobe. It also expresses your wishes for her eternal beauty and your deep love and appreciation. It's a unique way to showcase the charm of the season. Find it at thingiverse.
7. Christmas-themed Kitchen Gadgets
Get into the holiday baking spirit with 3D printed Christmas kitchen gadgets (a Santa measuring spoon or a snowman spatula). These thoughtfully designed gadgets not only add a festive touch to your kitchen, but also allow the whole family to enjoy holiday dinners and cooking adventures together. More than just a kitchen tool, they'll become the secret ingredient for warm family moments during the holidays.
8. Customized Gift Tags and Trinkets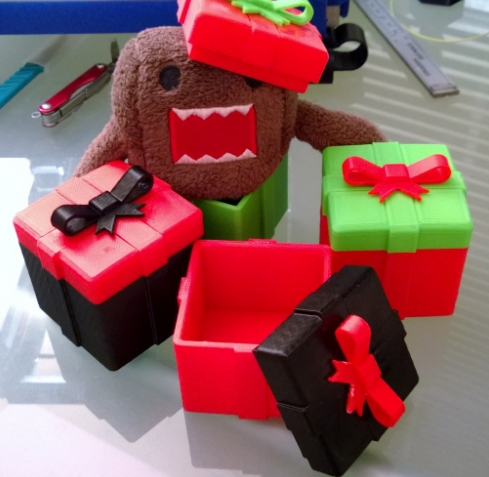 Add a personal touch to gifts with customized tags or small trinkets featuring names or heartfelt messages. Decorate beautifully wrapped presents for family members, making each gift feel not just wrapped but wrapped with love and care. It's the ultimate way to show thoughtfulness in every gift shared during the holiday season.
How to Obtain 3D Printed Christmas Gifts
1. Pick Your Ideal 3D Printer
Can't wait to create your perfect Christmas gift. Discover the world of 3D printing at the Creality Store, where a variety of possibilities await you – whether you're a beginner or an expert, all of which can help you find your ideal 3D printer.
All these choices cater to different skill levels and needs, so whether you're just starting out or you're a seasoned veteran, there's a printer for you. Wanna to know more details and get a big discount? Check out our Black Friday shopping guide and save money.
2. Download Your Favorite Designs
For incredible 3D models? Visit our recommended sites like Creality Cloud here, Thingiverse, or MyMiniFactory to explore tons of downloadable designs. Whatever your skill level, these platforms offer an extensive collection of mockups to help you bring your holiday creations to life.
Conclusion
"Jingle bell, jingle bell, jingle all the way!" Incorporate the melody of the season into our creations. Let's create the perfect 3D printed gift together and share the joy of Christmas!