Don't miss the Creality Black Friday Mega Sale from November 10th to 30th. Save up to 80% on Creality 3D printers and stay updated with expert tips. It's the perfect time to upgrade or dive into 3D printing.
Bookmark for ongoing updates and explore more tech deals in our Black Friday 2023 guide.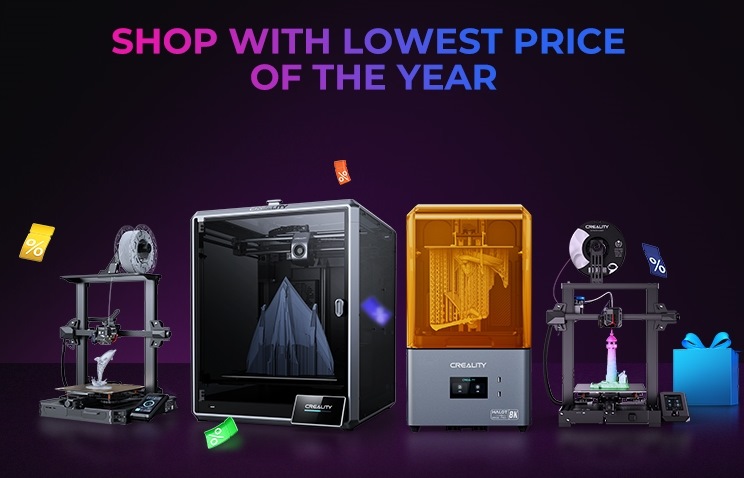 Part 1: Unleash Savings with Creality's Black Friday Mega Sale, Up to 80% Off!
We all know you've been eyeing Creality's latest printers. Well, the time has come to snag incredible deals! Without delay, let's dive into what Creality has in store for this Black Friday season!
Part 2: Exclusive Offers and Events
Creality is dedicated to making your Black Friday shopping unforgettable. Beyond fantastic 3D printer discounts, we've crafted exclusive events to enhance your experience.
2.1: Buy and Get Activity
2.2: Spin the Lottery Wheel
Spin our Black Friday Lottery Wheel for thrilling prizes, adding extra excitement to your shopping adventure. With a 100% winning rate, everyone's a winner! Top prize: K1 Max AI Fast 3D Printer, plus more.
The prize pool includes:
K1 Max AI Fast 3D Printer
A$10~A$150 coupon codes
Pack of 5 nozzles
PLA Filament
Ender-3 V2
1.6W Laser Engraver Module
Ender-3 Max NEO
2.3: Order Discounts
There are no additional steps required to apply your discounts; simply copy the corresponding coupon code when your order reaches the following amounts:
A$80 Off on Orders Over A$1599 with Promo Code BFCM80
A$45 Off on Orders Over A$999 with Promo Code BFCM45
A$30 Off on Orders Over A$699 with Promo Code BFCM30
A$20 Off on Orders Over A$499 with Promo Code BFCM20
A$10 Off on Orders Over A$299 with Promo Code BFCM10
Elevate your 3D printing with Creality's Black Friday deals! Begin saving significantly today. (Don't forget to enter the coupon code at checkout). Shop Now>>
2.4: Grab an A$10,000 Cash Gift Card for Free
Yes! You've got it right. From November 10th to November 30th, when your total spending reaches A$699, you qualify for a chance to win a share of A$10,000 in gift cards!
In the spirit of generosity, we're giving you the opportunity to win shopping card rewards, offering substantial savings and the potential to enhance your Black Friday shopping experience with significant rewards. Don't miss out on this amazing opportunity to make your Black Friday shopping even more rewarding!
Part 3: Maximize Your Black Friday with Creality
Throughout the event, special offers are available within the following categories. Please remember that to enjoy the maximum discount, it's crucial to apply any coupons and make full use of the discounts acquired during the Black Friday event before completing your purchase.
Categories Eligible for Special Offers:
- Printers
- Engraving Machines
- Scanners
- Material
To maximize your benefits from Creality's Black Friday event, a strategic approach is essential. To help you grab the best deals and enjoy a seamless shopping experience, consider the following tips:
3.1: Create Your Wishlist
Before the event commences, take a moment to explore our product offerings and assemble a wishlist of the 3D printers and accessories you desire. This will help you maintain focus and avoid impulsive purchases.
3.2: Enjoy Exclusive Events
Engage in our exclusive Black Friday events. Receive gifts with your purchases, spin the Lottery Wheel for exciting prizes, and enjoy discounts on orders, with savings ranging from A$10 to A$80. Maximize your rewards and save big during this special shopping season. Don't miss out!
3.3: Stay Informed via Our Blog
For the latest updates, tips, and guides on navigating Creality's Black Friday event, regularly visit our blog. We're here to provide you with valuable insights throughout the event.
With these strategies in mind, you can optimize your experience during Creality's Black Friday event, acquire the 3D printing products you've had your eye on, and enjoy a rewarding and satisfying shopping journey. Happy shopping!
Part 4: Smart Combos for Extra Savings and Convenience
To further enhance your Black Friday shopping experience, we've curated a selection of product combinations that complement each other seamlessly. These pairings not only elevate your 3D printing setup but also provide additional savings when acquired together.
These combinations provide you with a convenient method to elevate your 3D printing setup, ensuring you possess all the essential tools and accessories for a successful and enjoyable 3D printing journey. Keep a lookout for these pairings during our Black Friday event to benefit from extra discounts and a hassle-free shopping experience.
Discover all the bundled deals with Black Friday pricing right here>>
Bonus :Creality's Black Friday events in each country
You can click on the respective links to access the Black Friday event pages for each country.
Conclusion
With Black Friday on the horizon, Creality is ready to deliver an exceptional shopping experience. Get ready for amazing discounts, exclusive events, and expert advice on 3D printers and accessories. Whether you're a 3D printing enthusiast or a newcomer, this year's event is truly special. Prepare your wishlist, stay informed, and set your budget. Don't miss out on the chance to upgrade your 3D printing setup. Share the excitement, explore our discounted products, subscribe for real-time updates, and involve friends and family in the celebration.
At Creality, we're here to make your Black Friday unforgettable, offering savings and endless possibilities in 3D printing. Save the date and celebrate Black Friday with us in style!