Creality Laser Engraver Machines - Which one is the most?
Laser engraving technology has empowered countless families and businesses. Whether you're a first-timer or an experienced maker, laser engraving technology can help you produce profitable crafts.
However, if you're new to this technology, it can be difficult to determine what performance power you need and how much money you should spend from the wide range of laser engraving machines available on the market. To provide suitable production tools for different users and meet users' creative needs, Creality has launched a series of laser engraving machines since 2021, ranging from laser module CV-Laser Module to Creality Laser Module Series, from whole machine CV-01 to CV-01 Pro, CR-Laser Falcon, Creality Falcon2, with different powers and models ranging from 1.6W to 40W.
This article will introduce the full range of laser engraving machines launched by Creality so that users can enjoy the fun of creation at the most suitable price according to their actual creative needs.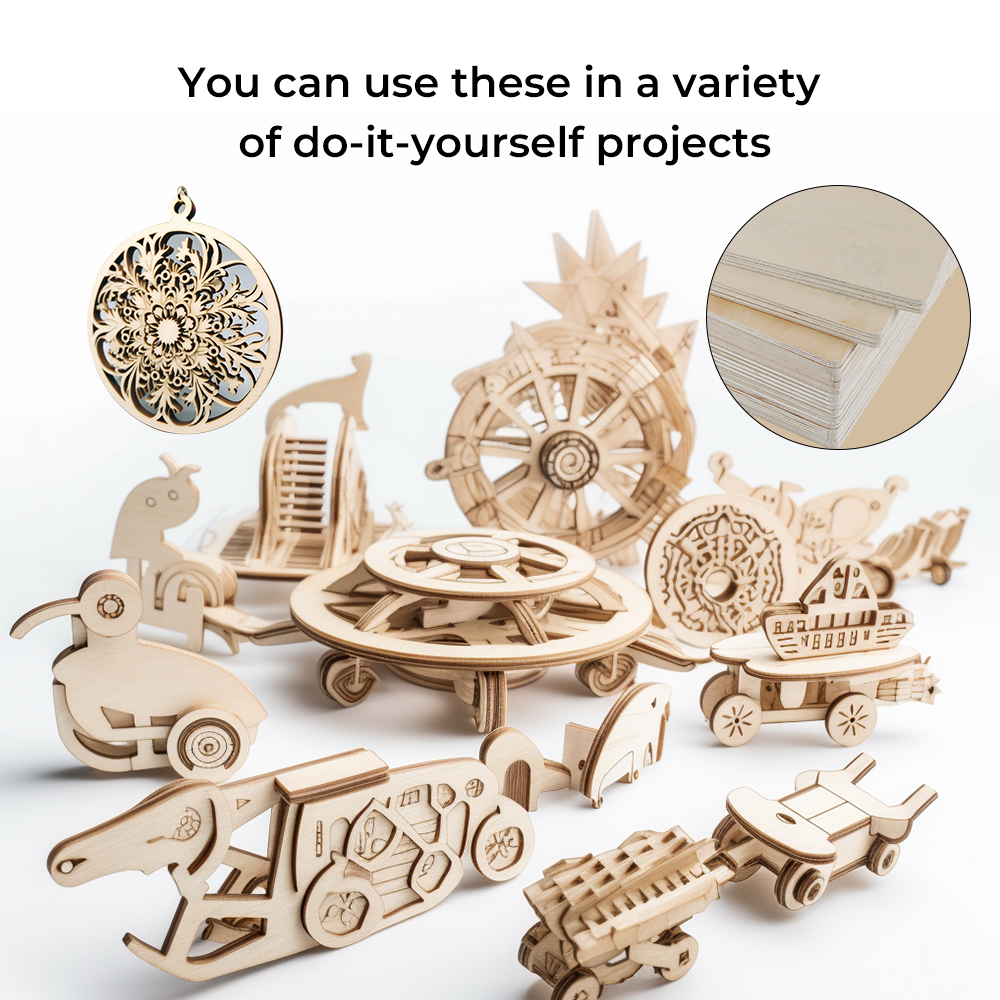 The Creality Laser Engravers
Recommendation
Small Size Pick
Budget Pick
Top Pick
Upgrade Pick
Model
CV-01 Pro
CR-Laser Falcon
Creality Falcon2(22W)
Creality Falcon2(40W)
Laser Strength
1.6 W
5 W&10W
22 W
40 W
Equipment Weight
1.8 kg
3.2 kg
7.18 kg
7.68 kg
Gross Weight
2.95kg
4.8kg
10.35kg
10.94kg
Product Size
480*315*145mm
568*632*198mm
664*570*173mm
664*570*193mm
Package Size
480*315*145mm
600*280*195mm
725*625*150mm
725*625*150mm
Work Area
170 x 200mm
400 x 415 mm
400 x 415 mm
400 x 415 mm
Engraver Speed(max.)
10000mm/min
10000mm/min
25000mm/min
25000mm/min
Cutting Depth(1 Pass)
/

5W: 3mm Basswood

10W: 5mm Basswood

15mm Basswood
20mm Basswood
Laser Type
Diode Laser
Input Voltage
100-240V~ 50-60Hz
Output Voltage
DC 12.0V 3.0A
DC 12.0V 3.0A
DC 24.0V 5.0A
DC 24.0V 10.0A
Operating Temperature
5℃-35℃
5℃-35℃
5℃-35℃
5℃-35℃
Laser Focus
Automatic
Automatic
Automatic
Automatic
Offline Working
Yes
Yes
Yes
Yes
Laser Wavelength
455±5nm
455±5nm
455±5nm
455±5nm
CLASS
Class IV (FDA)
Class IV (FDA)
Class IV (FDA)
Class IV (FDA)
Recommended Software
LaserGRBL/LightBurn
Supported File Formats
Jpeg, jpg, png, bmp, svg, dxf, etc.
Supported Materials
Cardboard, wood, bamboo, rubber, leather, fabric, acrylic, plastic, etc.
How to Pick your Creality Laser Engraver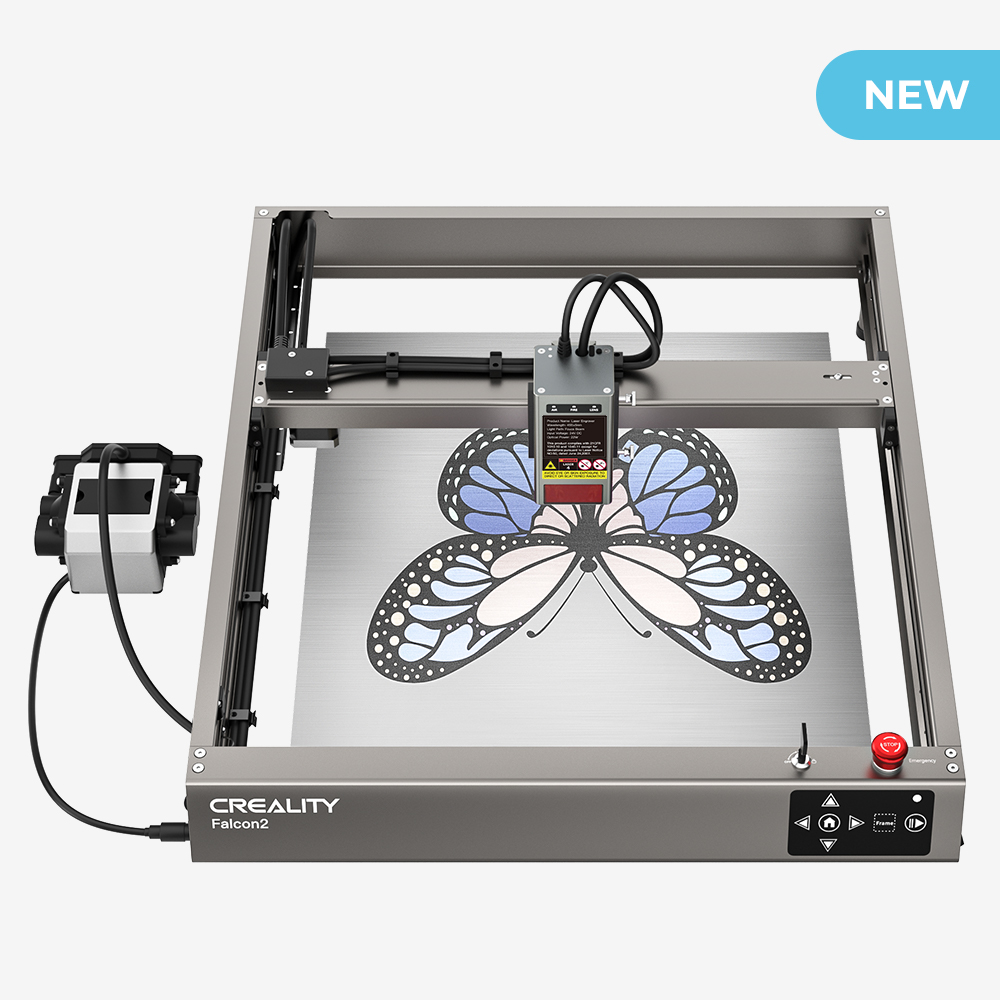 After the success of Creality's flagship engraver, the manufacturer went back to the drawing board and launched a powerful sequel: the CR-Laser Falcon 2. It's an optimal choice between advanced features and price. Provide greater power, larger build area, and new features. Small business owners and designers can utilize this engraver to produce customized gifts, while Makers and hobbyists well find this engraver useful for a wide range of DIY projects.
Off the bat, the biggest change implemented into the Creality CR-Laser Falcon 2 is the ultra-high power 22W engraving engine. Users can cut through a 10mm basswood in a single pass and use a variety of materials for engraving or cutting according to different needs, including various woods, stainless steel, acrylic, metal, plywood, kraft paper, and even soft materials such as paper and cloth. This means fewer restrictions and more exquisite engraving patterns and designs.
In addition, its engraving speed has reached an incredible 25,000 millimeters per minute, which is twice the speed of earlier models. This speed unlocks much more time for creating without sacrificing quality. Users can also leverage this speed for batch engraving works and cutting production.
The CR-Laser Falcon 2 22W is also equipped with a triple monitoring system that keeps the machine safe and sound during operation. Airflow monitoring keeps track of the current airflow volume, lens monitoring ensures that the lens doesn't break and require frequent replacement, while flame monitoring prevents fires and other safety hazards from taking place.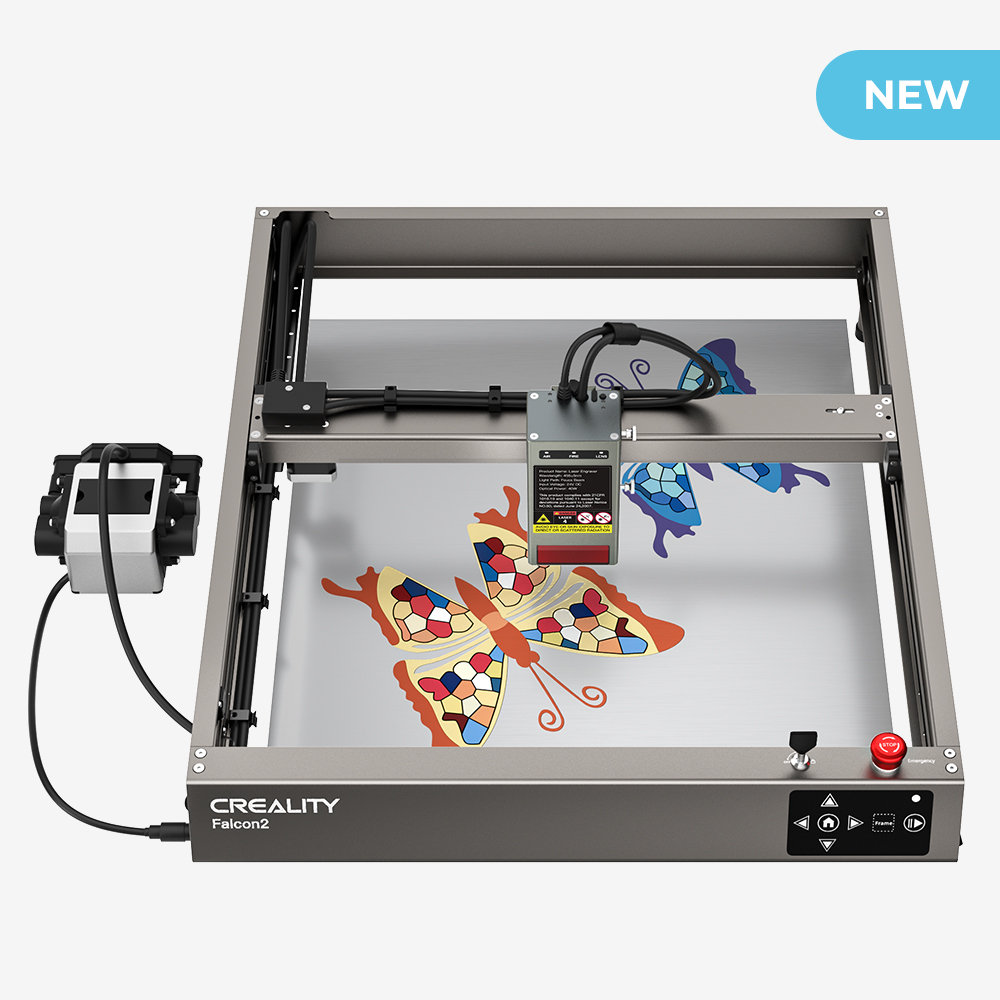 Creality Falcon2 40W is the most powerful laser engraver in Creality's lineup so far. Based on the latest FAC spot compression technology, 8 powerful 5.5W laser diodes are compressed to increase the laser power to 40W. Cutting 20mm basswood boards and 0.15mm stainless steel in one pass at speeds up to 25000mm/min. If you are a laser engraving technology user who pursues performance, it will be your best choice.
Equipped with breakthrough features such as dynamic spot adjustment. Creality Falcon2 40W can adjust the spot size according to engraving and cutting requirements, making it suitable for cutting thicker objects with a full-power large spot and thinner objects with a small spot for engraving and cutting, resulting in higher work efficiency and finer work results.
It also supports color engraving and air assist with a smart monitoring system and upgraded safeguards.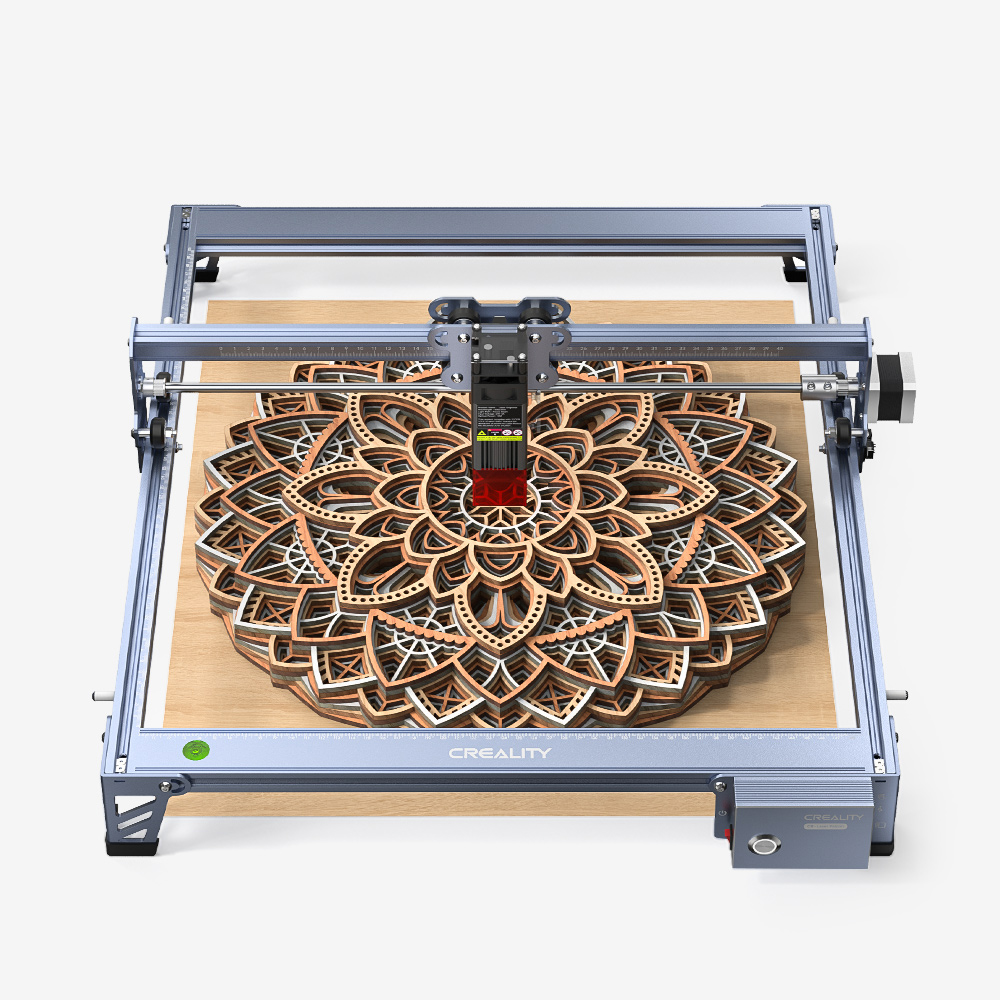 >Creality believes that the ease of use and performance of CR-Laser Faclon 10W will meet the needs of both beginners and DIY enthusiasts. Priced at just A$396 for 5W, makers of all experience levels can integrate laser engraving into their creative process without breaking the bank.
By using Creality's poly-lens spot compression laser technology, the spot size of the laser engraver is compressed from 0.32 x 0.14 mm to 0.12 x 0.06 mm, increasing speed by six times, while still ensuring that both the engraving and cutting accuracy can reach 0.1 mm. Enough to meet the daily usage needs of most users.
You can utilize a wide array of materials with the CR-Laser Falcon, including flexible materials like paper and leather, and wood. Even materials with high hardness, such as PVC, or anodized surfaces.
To reduce the risk of engraving failures or critical miscues, CR-Laser Falcon has made it easy for users to preview the engraving area before starting the process. For small batch engraving, the preview function is a significant help as it indicates the same dimensions as the actual working area, largely improving the overall success rate.
④Small Size Pick: CV-01 Pro
The Creality CV-01 is a laser engraving machine with a decent 1.6-watt laser module
A thoroughly economical and affordable laser engraver with laser power that meets your needs and a simple and compact frame design that lets you easily start your engraving journey.
The Creality CV-01 is powerful enough to perform engravings on materials like plastics, leather, rubber, wood board, bamboo board, cardboard, and more. As long as your intention isn't cutting through materials or making engravings in metals, it should be strong enough for your needs.
It's worth mentioning that because the laser beam from laser engravers can cause eye damage if you look at its mid-engraving, the Creality CV-01 provided a pair of UV-resistant glasses that will protect your eyes during the engraving process. There's also a semi-transparent orange circular part that attaches to the bottom of the laser engraver to further protect you from being exposed to the UV rays produced by the laser module.
When introducing the Creality laser engravers, it's also worth mentioning its 3D printer laser module. If you already have a 3D printer or want to have one, the laser module could be a potential choice for you.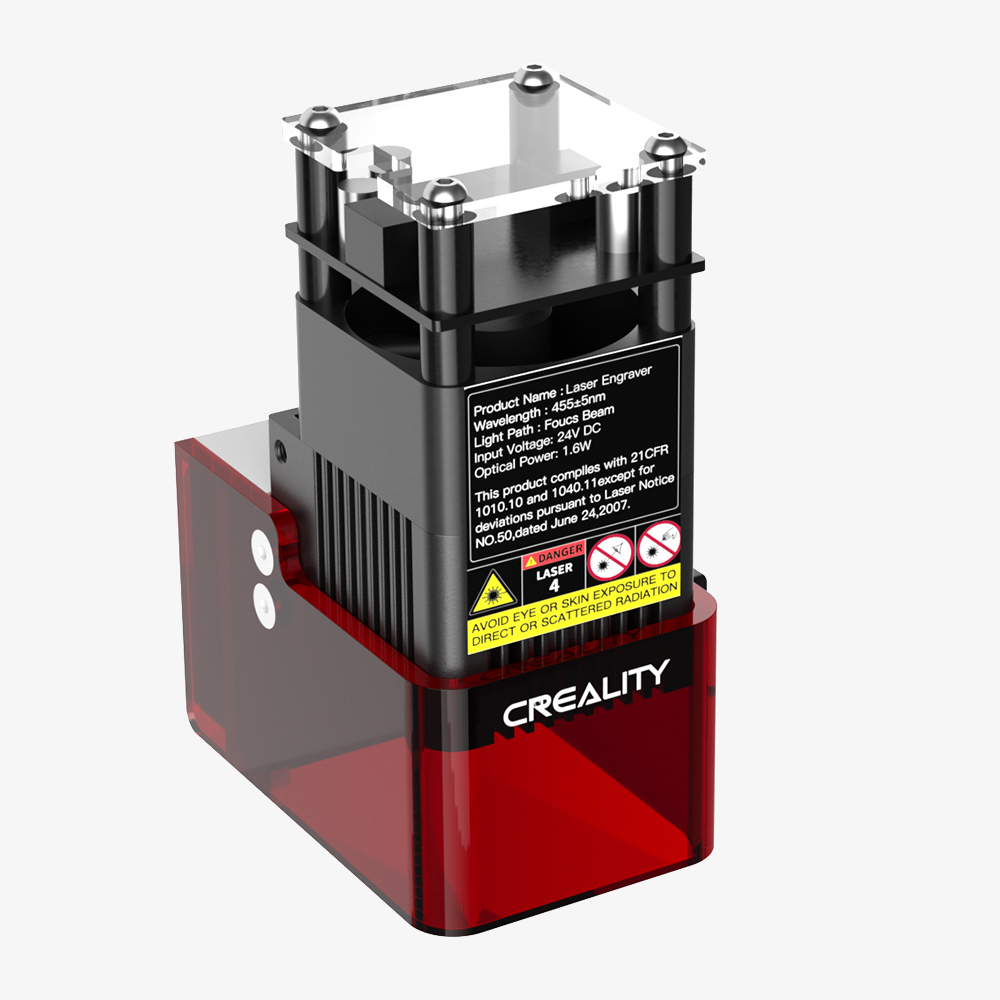 The power performance of all the laser modules is similar to that of the engravers, but it offers tremendous compatibility with Creality 3D printers, opening the door for meaningful and useful creations of all types. Users can install the laser module within two minutes time and can enjoy starting their engraving journey without having to change or update firmware.
Creality Laser Module Series
Laser Power
1.6W
5W
10W
22W
40W
Laser Spot
0.05mm
0.06mm
0.06mm
0.1mm

Adjustable

(0.1mm/0.15mm)

Processing Mode
Engraver
Cut
Engraver
Cut
Engraver
Cut
Engraver
Cut
Engraver
Cut
Basswood
2mm

Very

delicate,

but

slower

X

Delicate,

faster than

1.6W

1 Pass

Delicate,

faster than

5W

1 Pass

Delicate,

faster than

10W

1 Pass

as delicate

as 22W,

faster than

22W

1 Pass
5mm
X
X
1 Pass
1 Pass
1 Pass
8mm
X
X
X
1 Pass
1 Pass
10mm
X
X
X
1 Pass
1 Pass
15mm
X
X
X
X
1 Pass
20mm
X
X
X
X
1 Pass
Black Acrylic
3mm
X
X
X
1 Pass
1 Pass
1 Pass
5mm
X
X
X
X
1 Pass
1 Pass
8mm
X
X
X
X
1 Pass
1 Pass
Dark Anodized Aluminum
X
X
X
X
X
X
Brushed stainless steel
X
X
X
X
General
X
Colorful
Colorful
X
Supported Materials

Cardpaper, Felt, Fabric

Cardboard, Wood,

Bamboo, Leather, etc.

Cardpaper, Felt, Cardboard, Wood, Bamboo, Leather, Fabric, Acrylic,

Brushed Stainless Steel, Dark Anodized Aluminum, Painted Metal, etc.
Creality Laser Engraver Accessories - Crucial to the Success of Works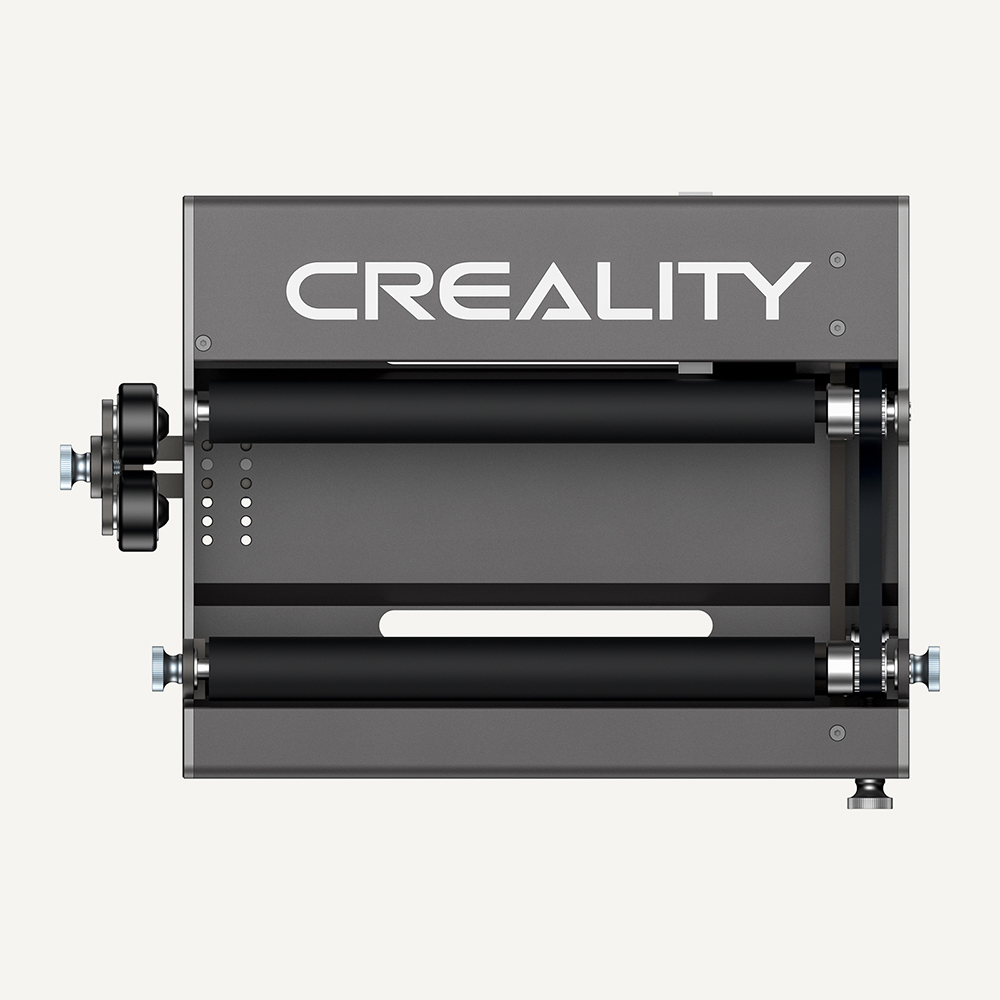 Suitable for engraving cylindrical and conical works, it can manipulate rotating works to achieve perfect designs through LightBurn. Equipped with a lifting bracket, it can fix the slender parts of conical works and is suitable for cans, wine bottles, cups, curved crafts, high-foot cups, etc.
It has seven different width modes that are suitable for cylindrical objects with diameters ranging from 5mm to 120mm.
The combination of honeycomb Workbench and steel plate can protect the desktop from damage, and the maximum working area supported is 456*456mm. The large aperture 8mm honeycomb design dissipates heat and smoke faster, avoiding fire and yellowing of works.
Extra riser is equivalent to two risers attached to Falcon 2, which can increase the height of the engraving machine. When worked with rotary roller, it can support a maximum working height of 160mm and a working diameter of 165mm.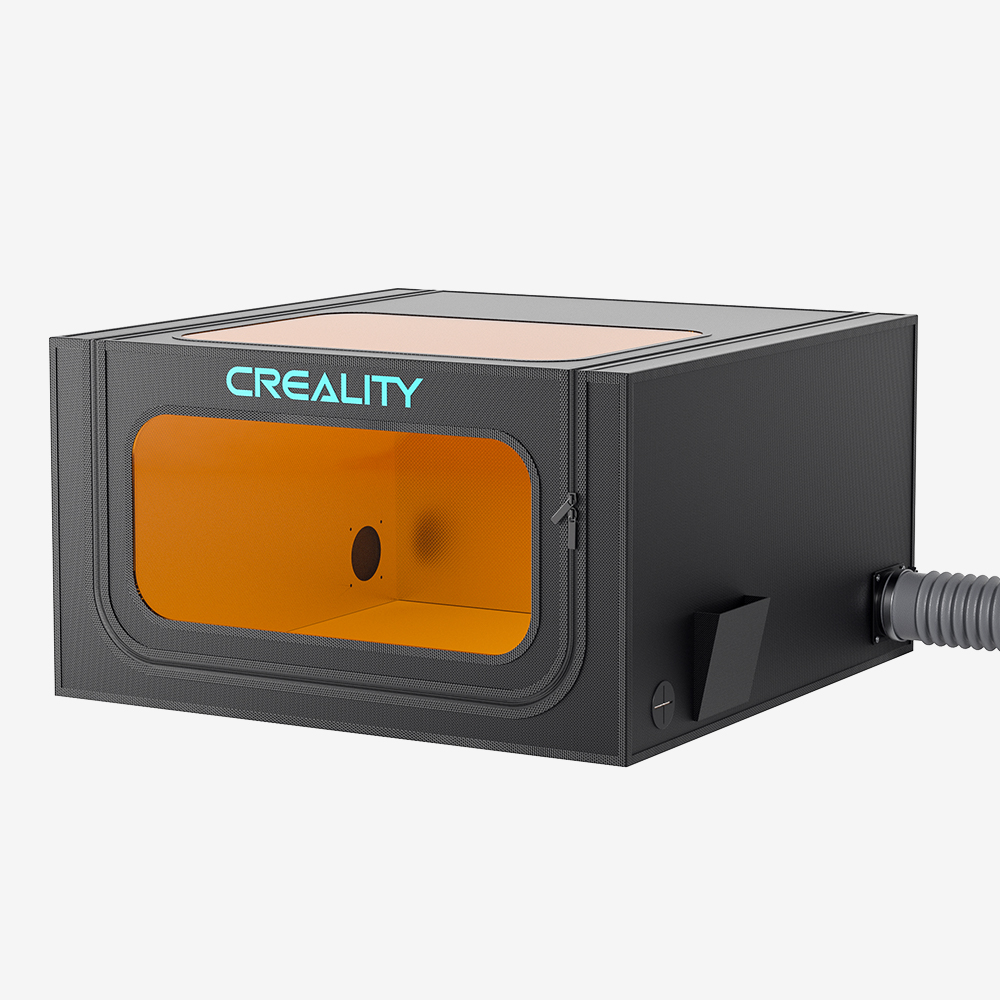 The enclosed structure of the protective cover is an excellent partner to improve the experience of using a laser engraver. It can isolate smoke and odor generated during work, bringing a more comfortable engraving experience.
Creality's laser engraver protective cover also has a built-in smoke exhaust system, which can exhaust smoke and dust in the cavity and keep the internal air clean. Installation is also very simple, and it can be folded for storage.
The transparent window design filters blue light while protecting the eyes, eliminating the need for additional eye protection glasses.
Conclusion
Above is the product guide of the Creality Laser Engraver Series. If you are interested in laser engraving technology or want to pursue more extreme works in laser engraving technology, you can select and combine the laser engraving components you need according to this article to create the most suitable laser engraving experience for yourself.