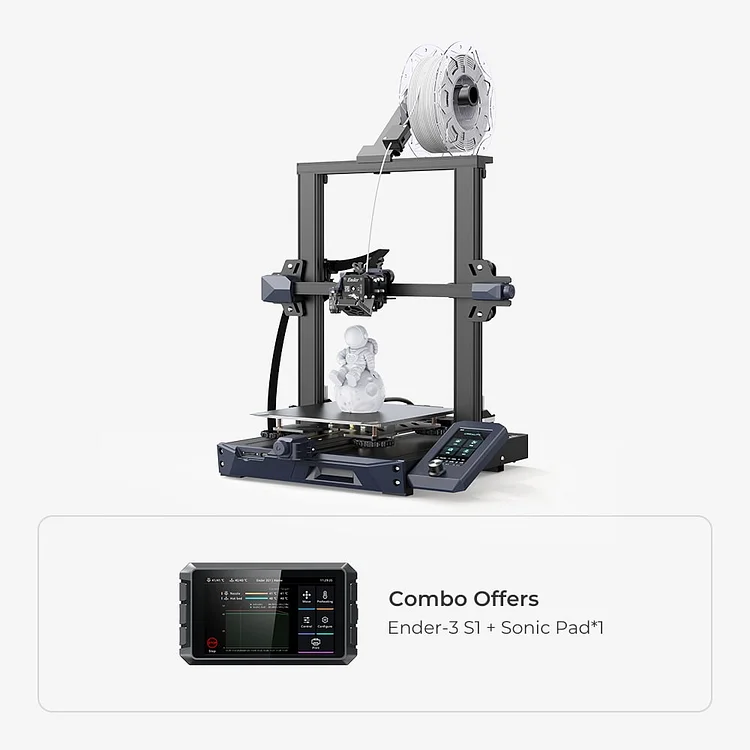 Take a Closer Look
Ender-3 S1 3D Printer
Modeling Technology: FDM(Fused Deposition Modeling)
Printer size: 487*453*622mm
Build size: 220*220*270mm
Supported filament: PLA/TPU/PETG/ABS
Printing layer thickness: 0.05-0.35mm
Printing speed: 150mm/s at the maximum
Printing precision: ±0.1mm
Maximum nozzle temperature: 260°C
Filament diameter: 1.75mm
Machine net weight: 9.1kg
Extruder gear ratio: 1:3.5
Automatic bed leveling: CR Touch
Printing platform: PC spring steel sheet
Screen: knob color screen
Rated voltage: 115/230v 50/60Hz 4.5/2.5A
Printing method: Type-C USB /SD card
Supported file format: STL/OBJ/AMF
Slicer/Cura/Repetier-Host/Simplify3D
Testimonials
Creality's Ender 3 S1 introduces a lot of first for the series. Besides a dual motor-driven Z-axis, it adds auto-bed leveling, a removable spring-steel print bed, and, perhaps most notable of all, a custom, compact direct extruder. Just a list of bits of a printer – not so interesting – but the crucial point is that the sum of all these parts is an effortless and premium-feeling 3D printer that puts out quality prints and is just plain nice to live with doing so.
www.all3dp.com
The Ender 3 S1 offers a near perfect printing experience that's a welcome change from its budget minded predecessors. It's easy to assemble and the CR Touch leveling system worked perfectly. I only needed to adjust the Z to compensate for filaments that need less squish. You get beautifully smooth prints even at standard print settings.
www.tomshardware.com
I've used this printer almost exclusively in the last few weeks, because I love the print quality and how consistent it is. Usually, some of the printers I review need a bit of fiddling after a few prints, but the Ender 3 S1 has been one of the most consistent printers I have reviewed lately, providing repeatable results over and over again.
www.3dprintbeginner.com