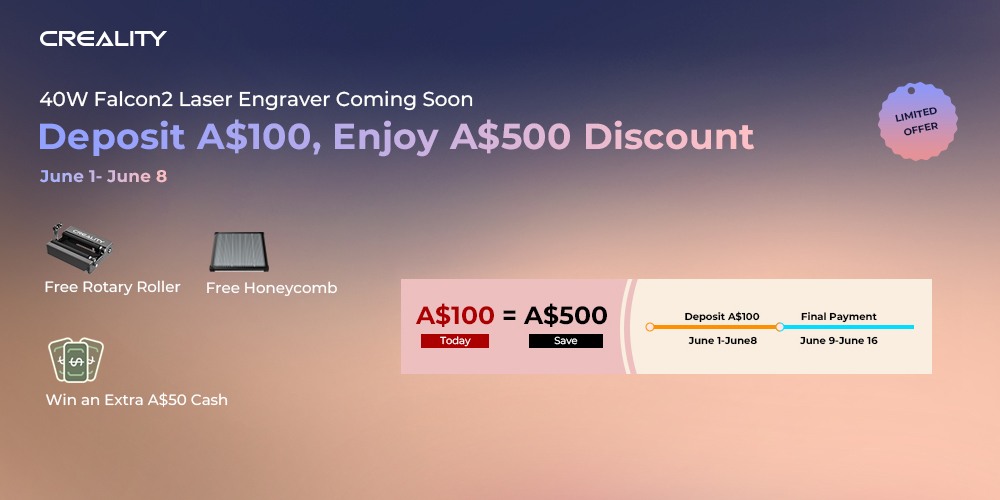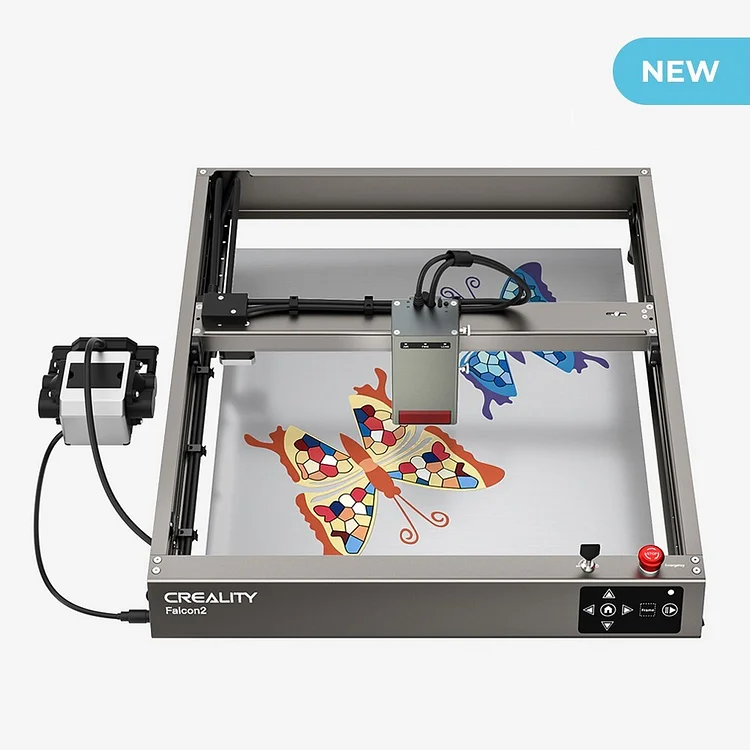 Notice
1. June 1st to June 8th: Pay a A$100 deposit to secure pre-order
2. June 9th to June 16th: Redeem a A$500 discount code with a pre-order deposit
3. You will receive a A$500 discount code via email the day after your payment is successfully processed.
1. Installment payments are supported
2. Products and gifts may be delivered in multiple packages separately.
1. The first 50 orders will be offered an extra honeycomb
2. Customers who pay the final payment will receive a free rotary roller
3. Remember to win the A$50 cashback by sharing your work on social media and send back to [email protected]

Meet the super power of Creality Falcon2 40W together












Add Some Colors to Your Works, and Your Life

When the stainless steel is heated by the super powerful laser beam, the metal surface will physically react and produce hundreds of colors, bringing your works to life.
Adjustable Light Beam
One head for two uses. No need to replace Convenient and fast
Super Power of Speed
25000mm/min

Make sure your cuts effective with more precise cutting edge




Stay away from burnt black and rough
The amount of air can be adjusted automatically with the LightBurn setting.
Special five safety protection features will protect your operation safety




Active Stop Function
The machine will stop working in case of accidental tilt, flip or drop, with the buzzer and indicator sending alert.

Triple real-time monitoring, escorting your work



















Get the perfect machine in a few easy steps
Small gadgets to help you complete efficient focusing in 3 seconds
1.Place the multi-level fixed-focus block between the module and the processed material
2.Lower down the laser module to touch the corresponding position of the multi-stage focus bar
3.Use the right screw to lock it.
Position and adjust precisely without connecting to a computer.
Compatible with a variety of systems, including Windows and macOS systems, and software such as LaserGRBL and LightBurn.
Just insert a TF card, and you can feel free to create anytime, anywhere.
Outstanding Motion Stability
The full aluminum alloy structure design brings a more solid machine, ensuring exceptional stability even in high-speed operation.
Take the Experience Further
There are 3 adjustment holes on the bottom of the machine to suit different table sizes.