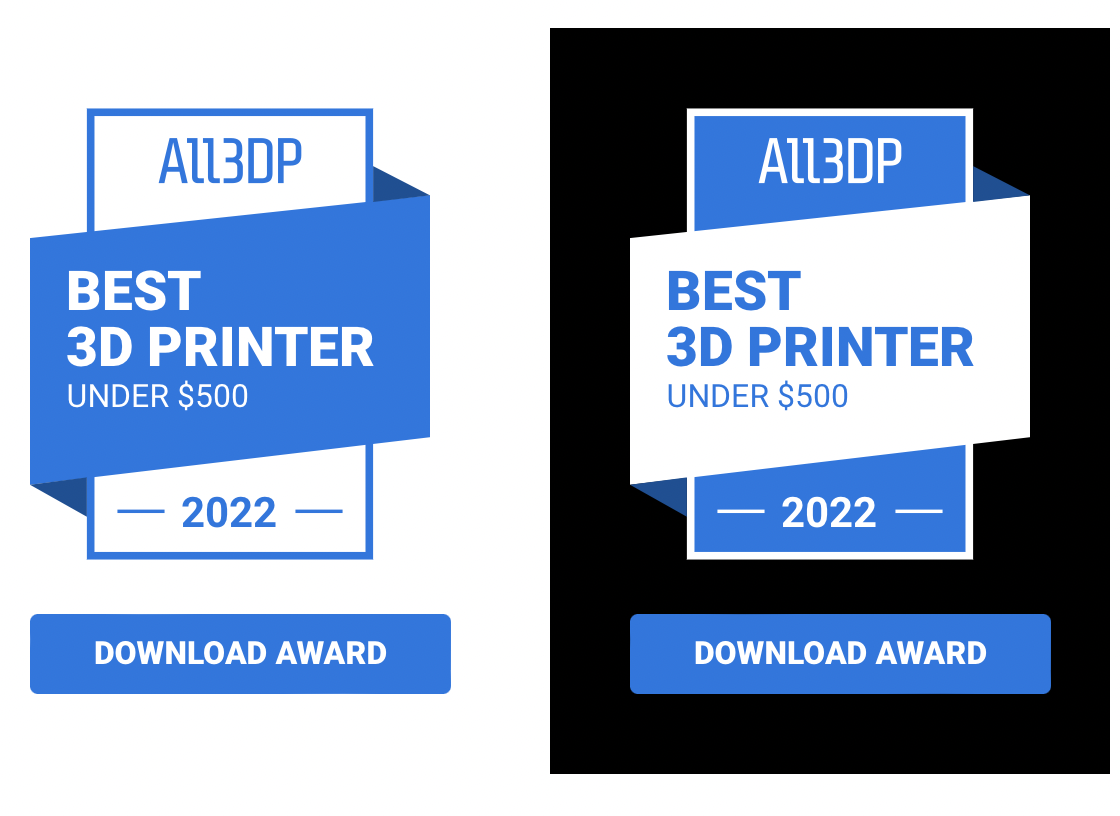 ALL3DP 's 2022 Recommended Printers came out, and three of Creality's 3D printers shortlisted.
-Best 3D Printer Under $500, 2022-Creality Ender-3 S1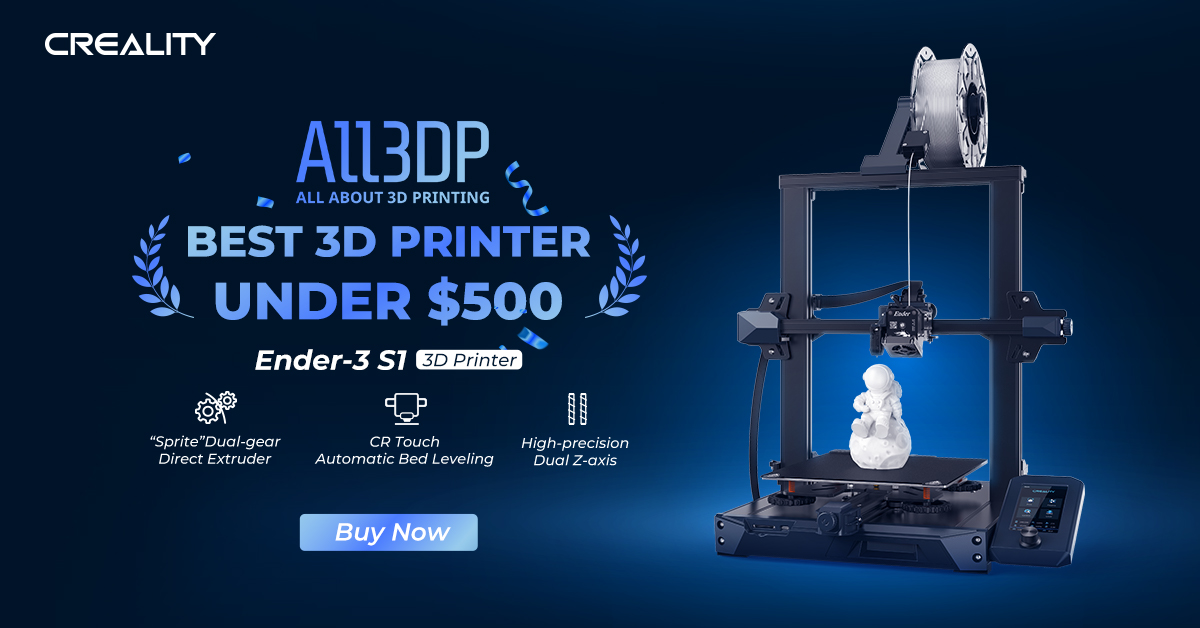 The frame may look familiar, but in the Ender 3 S1, Creality changes things considerably from the Ender 3 V2.
The Ender 3 S1 is a significant step up from the Ender 3 machines that came before it. Here you get dual stepper motors to drive the Z-axis movement, a flexible, metal, removable PC-coated print bed, and a sophisticated lightweight print head that introduces a dual, reduction-geared extruder that directly feeds filament to the hot end beneath.
Its initial price was uncomfortably close to $500 but has since dropped to $389–a steal for the improvement in usability that the Ender 3 S1 offers.
In addition to a larger build volume (the largest in this list), the S1's Sprite extruder allows for quick and easy filament loading, with strong gearing reducing the chance of clogs and under extrusion issues. Sitting shotgun to the Sprite is a CR-Touch auto-bed leveling probe, which the printer will tap off against the bed to create a virtual map of variances in the surface–in short, a process to achieve perfect first layers without much effort on your part.
A full-size SD card for data transfer, plus a tool drawer, and belt tensioners, round out a satisfying upgrade on one of the most popular 3D printers. Its abilities are tantalizingly close to the Original Prusa i3 MK3S+ (the Ender 3 S1 Pro is closer, printing hotter than the vanilla S1), albeit lacking the self-diagnostic smarts and maker-punk looks. A comfortable choice if you want a fuss-free printing experience.
Black Friday Deals on now, save up to $75.8 for an Ender-3 S1 3d printer.
-Link to article: https://all3dp.com/1/best-cheap-budget-3d-printer-affordable-under-500-1000/.
-Budget Pick, Small / Mini, 2022-Creality Ender-2 Pro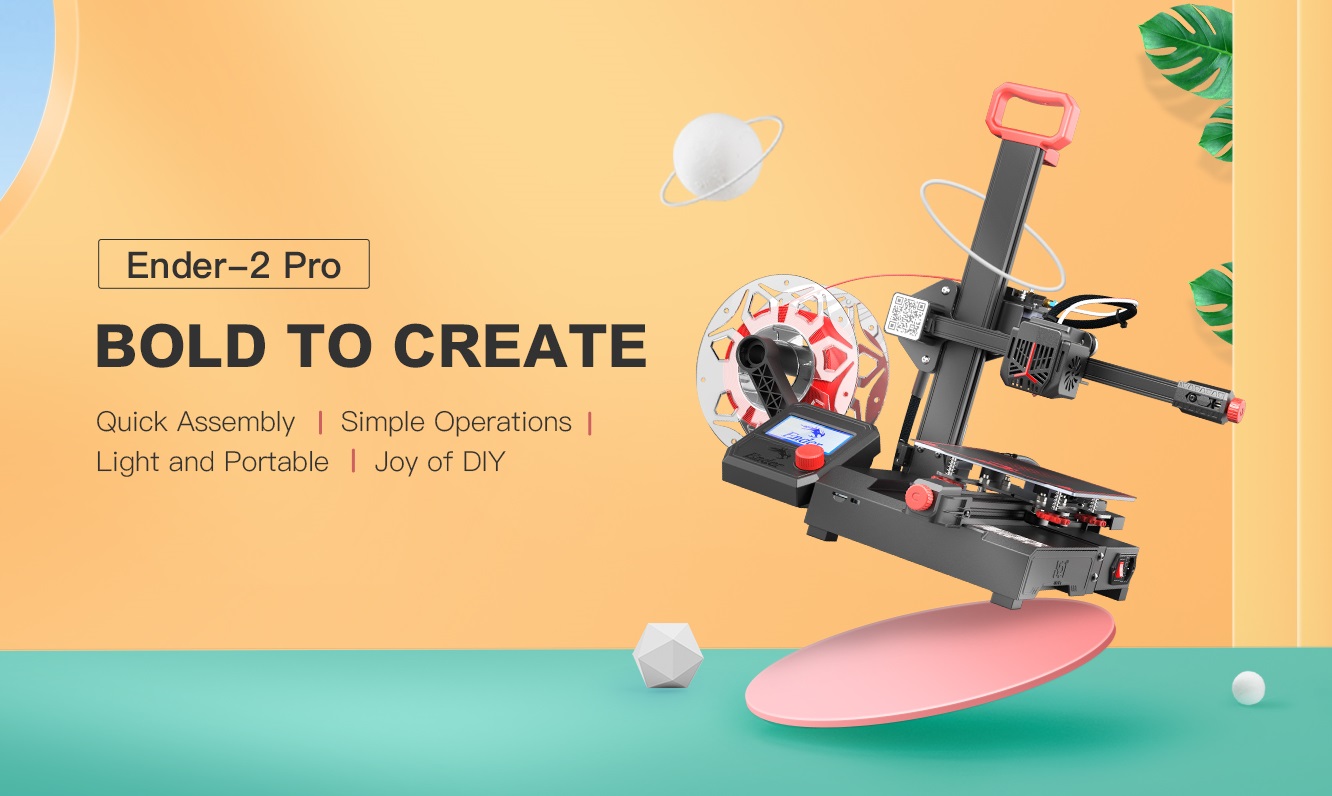 Creality's 3D printers are typically few-frill affairs. In exchange for little money, you get great print quality, a simple setup, and not much else. The Ender 2 Pro typifies this with a simple, modular assembly and effortless printing for just $169.
That's close to a third of the price of the Original Prusa Mini+. But, for the dollars saved, the trade-off is a little more effort on your part and an overall less sophisticated experience. You have to level the bed yourself, which can be a fiddly process if you have large hands trying to contort beneath the print bed to turn the bed-leveling nuts. Similarly cumbersome is the usage of microSD cards for transferring prints to the machine.
Aside from the minor quibbles, though, the Ender 2 Pro excels as a compact workhorse for printing the likes of PLA and PETG. The removable print bed makes print removal a cinch (be sure you've got your bed leveling perfected; you'll bake filament into its surface otherwise), and sticking with default print settings results in fine 3D prints.
For portability, there's a chunky carry handle, while the spool holder can collapse in itself and the display pulls free without the use of tools.
Creality provides Creality Slicer, a customized version of Cura, which includes the Ender 2 Pro print profile, simplifying setup and making the machine pretty accessible for newcomers.
-Link to article: https://all3dp.com/1/best-small-mini-3d-printers/.
Limited to 100 stock per day.- $99 for Ender-2 Pro 3D printer.
-Upgrade Pick, Wash & Cure Stations, 2022-Creality UW-02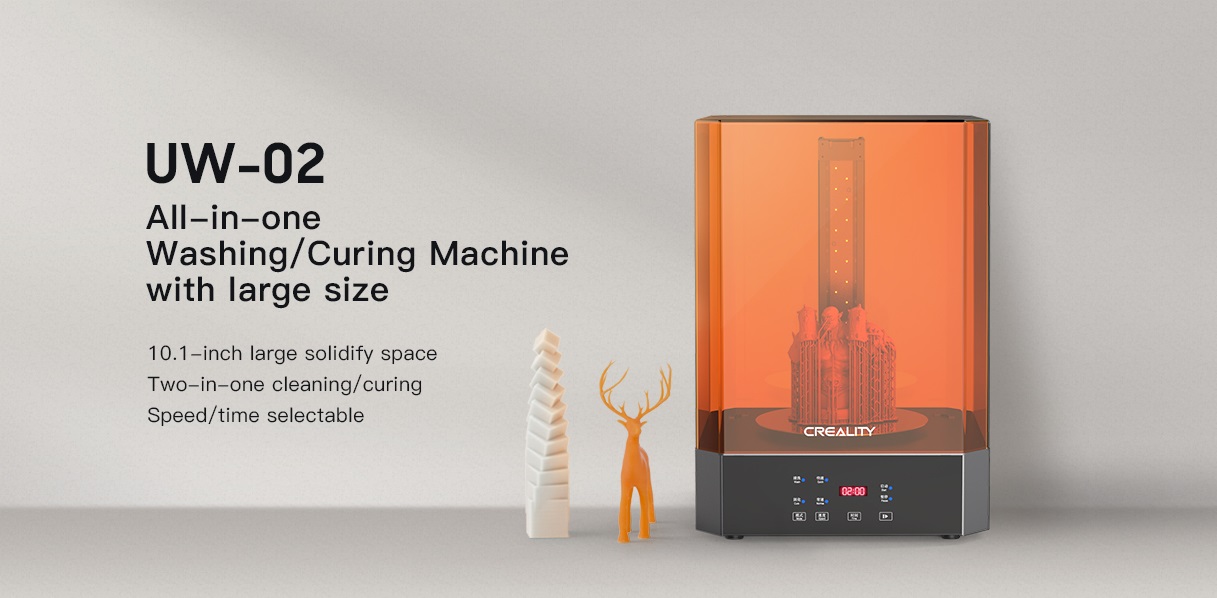 If you need a 2-in-1 machine with a bit more room to place larger models in, cast your eyes upon Creality's latest version of a washing and curing device, the UW-02.
With a 200 x 160 x 240 mm washing volume, the UW-02 holds enough space to clean large models and is compatible with all 10.1-inch and smaller resin 3D printers on the market. So, prints of the Halot-One Plus, but also the likes of the Elegoo Saturn 2 or Phrozen's Mighty 8K, should find themselves submerged within the basket. The UW-02 also features a fixture to mount the build plate too, although this will most likely only fit Creality's own print plates. The holder's height is adjustable, though, so the casket does not have to be completely filled, which can come in handy as the total capacity of up to 9500 ml requires quite a bit of cleaning agent.
What's more, the UW-02's user interface lets you choose between three different washing speeds. Especially if delicate models are in the tumbler, this should prevent them from being whirled around by the magnetic fan and intricate breaking parts off.
To cure your prints, simply remove the tank and place the models on the rotary table. The UW-02 offers ⌀200 x 300 mm of curing capacity. Similar to the Wash & Cure, Plus, the UW-02 also cures via a single bracket with 24 LEDs in the back and a reflective sticker underneath the turntable. Instead of the rotary knob, you get a bunch of buttons to tap on, letting you set speed, intensity, and different cure intervals for up to 30 minutes. Also, if you lift the lid during curing, the machine will automatically stop.
The Creality UW-02 will set you back $219– a great cost-value option for those working with large format printers and models.
Buy a UW-02 and get one free bottle of resin (500g) now, don't miss out!
-Link to article: https://all3dp.com/1/best-resin-washing-curing-station/.