As Black Friday draws near, Creality is thrilled to unveil a comprehensive shopping guide for the captivating world of 3D printing.
Whether you're a seasoned enthusiast or a curious novice, our guide has everything you need, from curated product selections to exclusive deals. Let's dive in!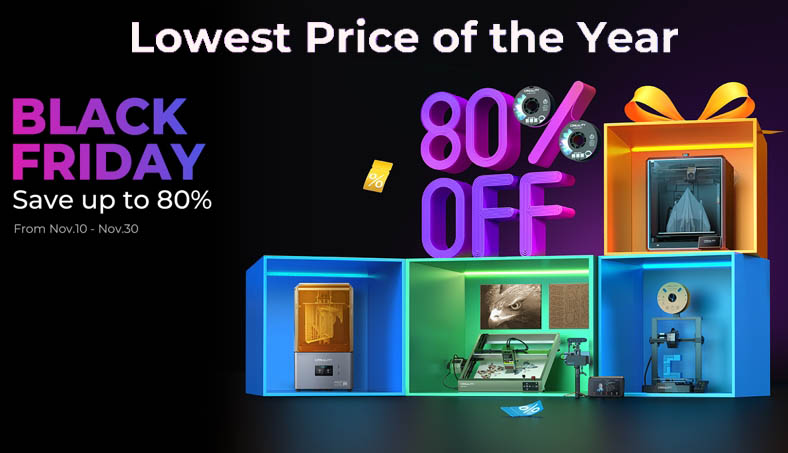 Part 1: Featured Products
Get ready for the upcoming Black Friday extravaganza from Creality, where the focal point is our meticulously chosen selection of featured products. These aren't just ordinary items; they've been carefully selected to elevate your 3D printing journey to extraordinary heights. Here's what you can anticipate:
3D Printers: Our star offerings encompass a diverse array of cutting-edge 3D printers. Whether you're a seasoned professional or a novice embarking on your 3D printing journey, we have the perfect printer to suit your requirements. From precision-centric resin printers to versatile FDM models, our selection caters to every expertise level.
Accessories: The effectiveness of a 3D printer relies on its accessories. In our lineup of featured products, you'll uncover a wealth of accessories thoughtfully curated to enrich your printing experience. This includes high-adhesion print surfaces, upgraded nozzles for finer detail, and more.
Filaments: Our Black Friday deals extend to a variety of filaments available in different materials and vibrant colors. These filaments are not just budget-friendly but also of the utmost quality, ensuring that your creations burst to life with precision and vibrancy. Gear up to transform your 3D printing experience with our exclusive offerings!
Part 2: Comparison Charts
To make informed choices, consult our comparison charts. We break down key features and specs, letting you easily compare various 3D printers and accessories side by side.
| | | | | |
| --- | --- | --- | --- | --- |
| Product | K1 | K1 MAX | Ender-5 S1 | Ender-3 V3 SE |
| Printing Speed (mm/s) | 600 | 600 | 250 | 250 |
| Max Temperature (°C) | 300 | 300 | 300 | 300 |
| Structural Features | High-speed printing, auto-leveling, dual cooling systems | High-speed printing, auto-leveling, dual cooling systems | Highly stable cube frame, high-speed printing | Auto leveling, direct drive extruder, fast printing |
| Auto-Leveling | √ | √ | √ | √ |
| Printing Volume (mm) | 220x220x250 | 300x300x300 | 220x220x280 | 220x220x250 |
| Assembly Complexity | Ready to use | Ready to use | Moderate | Moderate |
| AI Devices | × | AI Camera, LiDAR | × | × |
| Deal Price | £383 £579 | £687 £859 | £319 £579 | £170 £189 |
Our comparison charts are your secret weapon in the world of 3D printing. No matter if you're considering a new 3D printer or looking to upgrade your existing one, these charts empower you with the knowledge to make a choice you'll be happy with.
Part 3. Buyer's Guides
3.1: For Beginners
If you're embarking on your 3D printing journey, our tailored Buyer's Guide for beginners is here to guide your initial steps. We demystify technical jargon, provide clear fundamentals, and recommend user-friendly 3D printers with an easy learning curve.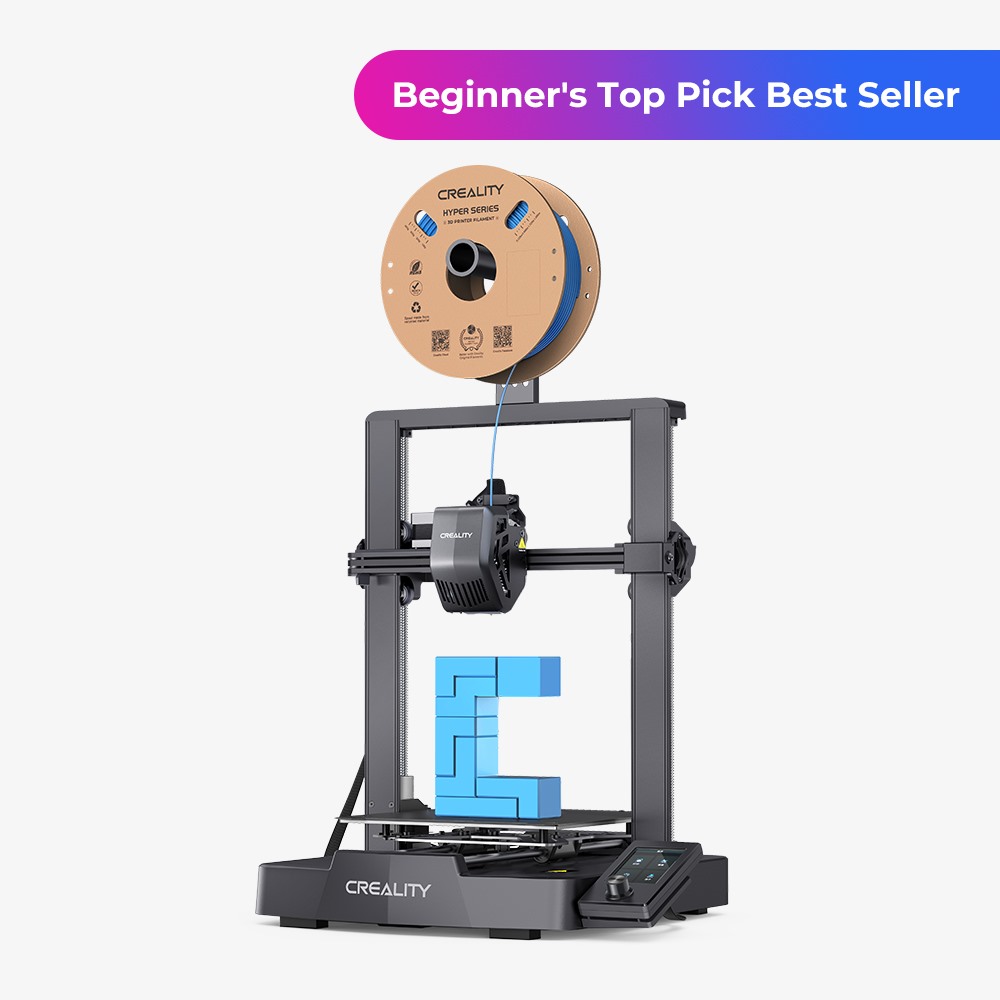 Experience a rapid 500mm/s printing speed, a responsive touch UI screen, and a versatile "Sprite" Direct Extruder supporting various filaments. Perfect for experiments, get ready to elevate your 3D printing game this Black Friday!
Ensure a smooth and hassle-free printing experience with this printer, boasting a max printing speed of 250mm/s and auto-leveling capabilities. Its "Sprite" Direct Extruder is renowned for reliability and compatibility with PLA, PETG, and TPU.
Designed for beginners, this printer features a dual-gear direct drive extruder, a 4.3-inch touchscreen, and a high-temperature nozzle. Providing versatility for different printing materials and easy control, it simplifies the 3D printing process while delivering precision and innovation.
3.2: For Professionals
Our Buyer's Guide for professionals caters to those requiring precision and reliability. Explore advanced 3D printers with top-tier features, optimal build volumes, and robust performance capabilities—ideal choices for architects, engineers, and designers.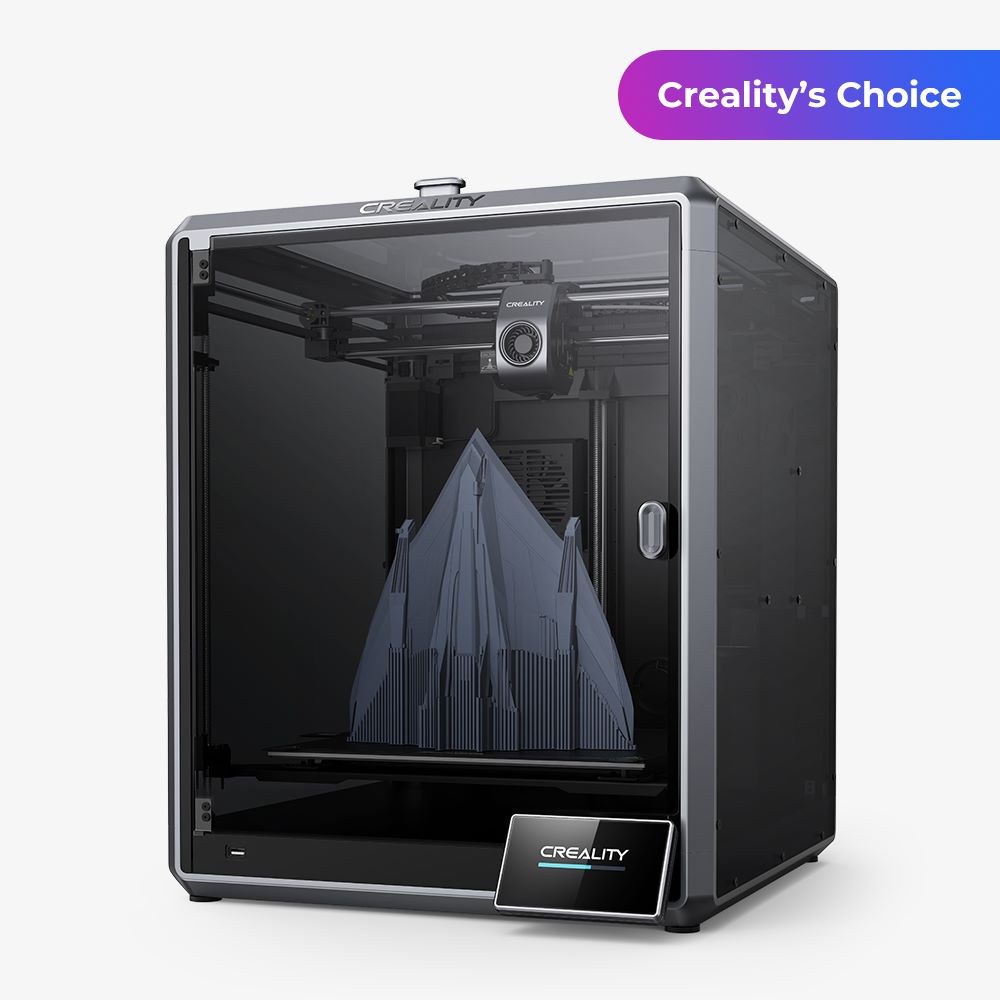 Experience astonishing speed with a 600mm/s printing speed, 12 times faster than regular FDM printers. Boasting a rapid 32mm³/s flow rate, dual-gear direct extruder, titanium alloy heatbreak, and an agile Core XY setup, it ensures efficient and precise printing for professionals. The K1 Speedy supports smart Creality OS, USB/WiFi connectivity, and comes pre-assembled for hassle-free, high-quality printing.
Delivering top-tier performance, the K1 Max offers a maximum printing speed of 600mm/s and a large printing size of 11.8x11.8x11.8 inches. Featuring AI LiDAR and camera systems for error detection, self-testing, and auto-leveling, it ensures outstanding print quality. The dual-gear direct drive extruder, titanium alloy heatbreak, and rapid cooling contribute to a superior printing experience. The printer comes pre-assembled for immediate use.
This resin 3D printer achieves hyper speed at 170mm/h and includes an 8K high-precision 10.3-inch LCD screen. The upgraded integral light source and smart resin pump enhance 3D printing quality and efficiency. With an activated carbon filter and odor-free environment, it supports better heat dissipation for extended use, providing a reliable solution for professional applications.
3.3: Hobbyists and Makers
For the creative minds and hobbyists, we offer a guide that highlights versatile 3D printers known for their adaptability and versatility. Discover models that allow you to experiment with various materials and unleash your creativity without limitations.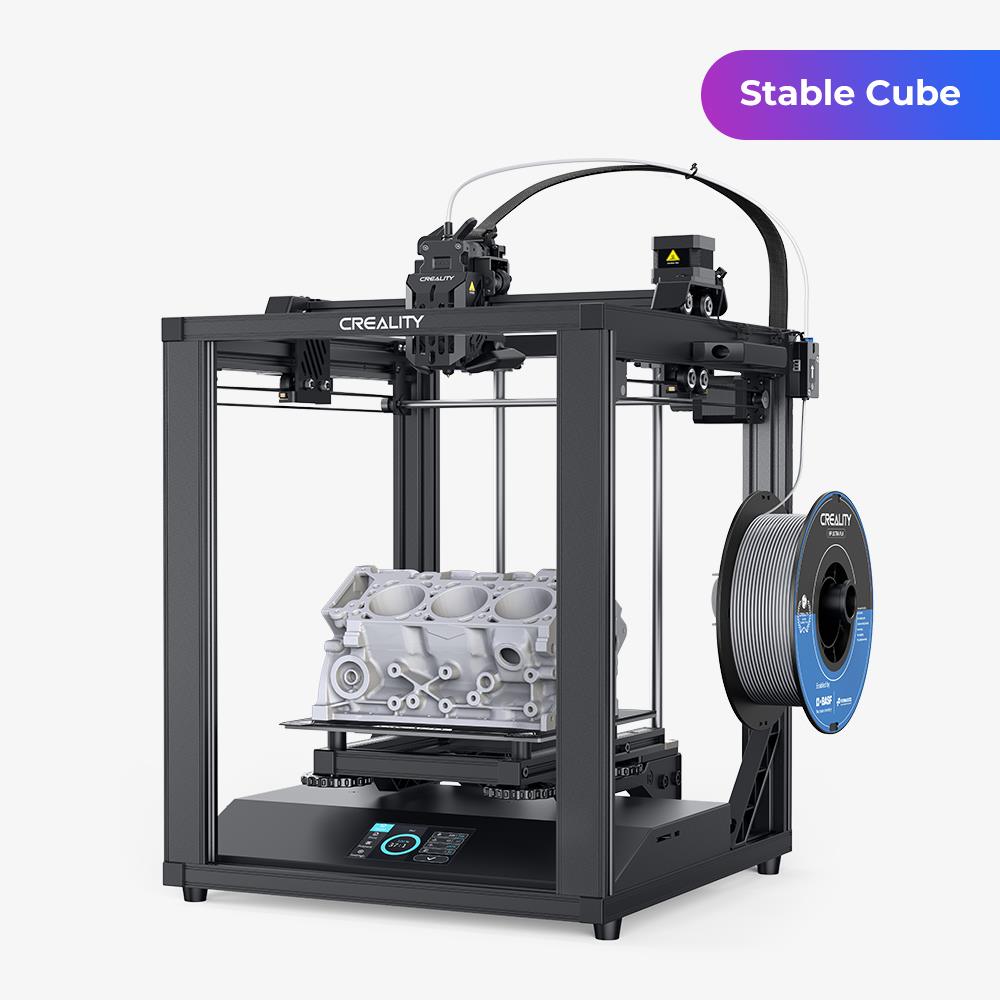 Experience a fantastic blend of features with this 3D printer, offering a 250mm/s high-speed printing capability and a stable cube frame for precise and efficient prints. User-friendly with a direct drive extruder, CR Touch auto-leveling, and an intuitive touch screen UI, it supports multiple printing methods. Versatility is amplified with compatibility for a range of filaments, including high-temp options.
Designed for easy assembly, the Ender 3 V2 Neo is beginner-friendly, featuring CR Touch auto bed leveling and a new 4.3-inch UI with a model preview function. The PC spring steel magnetic build plate ensures strong adhesion and easy model removal. Equipped with a silent motherboard, full-metal extruder, and a streamlined assembly process, it caters to makers of all skill levels.
Ideal for resin printing enthusiasts, the Halot-Mage boasts an 8K high-precision LCD screen, a large print size, and a high-precision integral light source. Its unique flip lid, built-in activated carbon filter, and odor-free environment ensure a safe and convenient experience. With support for various slicing software and 8K resolution, your creations will come to life with intricate details.
3.4: Accessories
Our Buyer's Guides extend to accessories, offering insight into the must-have additions to your 3D printing setup. From nozzles to bed adhesion solutions, we provide recommendations on the accessories that will enhance your printing experience.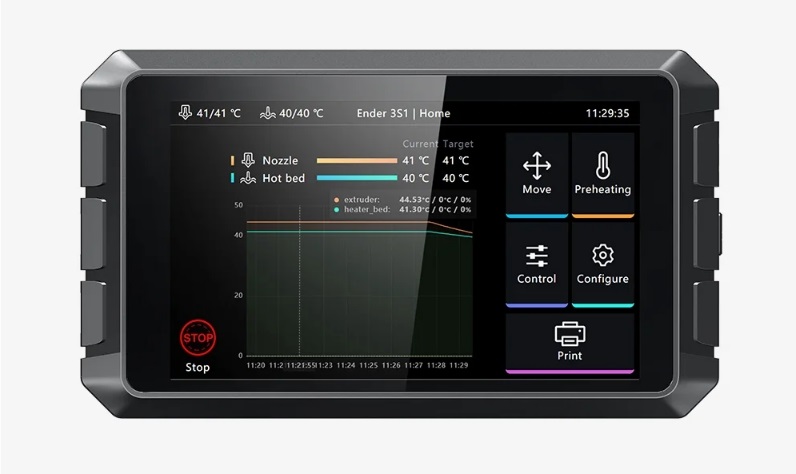 Upgrade your printing capabilities with our Nozzle Kit tailored for K1, K1 Max, and CR-M4 models. This kit, crafted with copper alloy and hardened steel, ensures high thermal conductivity and wear resistance. With multiple size options (0.4mm, 0.6mm, 0.8mm), it caters to diverse printing needs. The advanced heat treatment process extends the nozzle's service life, offering compatibility with various FDM materials and composite filaments.
Based on Klipper, this 3D Printing Pad is compatible with most FDM printers. With a powerful 64-bit computing platform and a large 7-inch touch control screen, it provides strong computing power and an intuitive model preview. The serial cable ensures a stable connection, and it's capable of speeding up printing without compromising quality. You can control multiple printers simultaneously, offering rich expansion options for your projects.
Introducing the Black PEI Magnetic Flexible Steel Plate for stable and efficient printing. This flame and wear-resistant plate offer stability and easy maintenance. Experience no deformation at temperatures up to 200℃, making it easy to bend and remove models. The magnetic properties remain intact, ensuring a secure hold even in high-temperature environments. Installation and replacement are hassle-free, making it a versatile addition to your 3D printing setup. Elevate your printing surface with this durable and convenient accessory.
3.5: Filaments
The choice of filament can significantly impact your 3D printing projects. Our Buyer's Guide for filaments covers the various types of filaments available, including PLA, ABS, PETG, and more. Understand their properties, applications, and best practices for usage.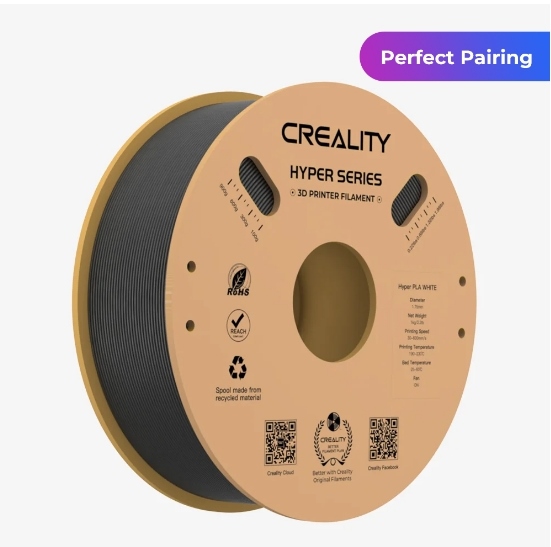 Achieve cutting-edge 3D prints with 10x faster speed, enhanced toughness, uniform diameter, and eco-friendly packaging for an eco-conscious journey.
Discover enhanced strength and uniformity with our Ender PLA+ Filament. Elevate your prints with versatile, eco-friendly material for a seamless experience.
Achieve precision with our Standard Rigid LCD UV Resin. Ideal for detailed resin 3D prints, ensuring stability and efficiency in every project.
Part 4: Annual Guide to the Top 3 Best-Selling Products in Each Category
4.1: Top 3 Ender Printers
Dive into our annual guide, starting with the top Ender printers. Learn why they're the best-sellers and how they can transform your 3D printing projects.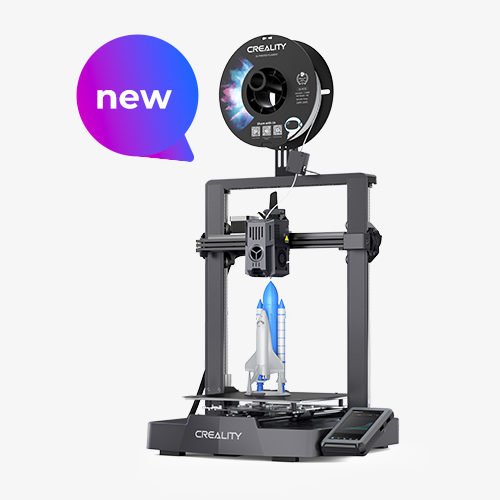 - Stable Cube Frame: The Ender-5 s1 features a stable cube frame, ensuring precise and consistent prints.
- High-Speed Printing: With a high-speed printing capability of 250mm/s, it's perfect for projects that demand efficiency.
- Direct Drive Extruder: The direct drive extruder guarantees reliable filament feeding and compatibility with various materials.
Upgraded Power Supply: The improved power supply ensures stable and reliable printing performance, reducing the risk of power-related issues.
Textured Glass Bed: The textured glass bed offers strong adhesion, making it easier to start and remove prints.
Ultra-Quiet Stepper Motor: The ultra-quiet stepper motor and silent motherboard reduce noise levels during the printing process, maintaining a peaceful working environment.
Special Edition Features: The SE edition brings enhanced features to the classic Ender-3, delivering a more streamlined and aesthetic design.
Auto-Leveling: This printer is equipped with auto-leveling, ensuring that your print bed is perfectly leveled, resulting in accurate and high-quality prints.
Color Touchscreen: The color touchscreen simplifies the user interface and allows for intuitive control of the printer.
All-Metal Frame: The all-metal frame enhances stability, guaranteeing a 100% success rate even during high-speed printing.
"Sprite" Dual-Gear Direct Extruder: Featuring dual gears and a 1:3.5 gear ratio, this extruder provides consistent and strong extrusion, even with flexible filaments.
4.2: Top 3 Enclosed Printers
For those who seek controlled printing environments and minimal external interference, our guide to enclosed printers is a must-read.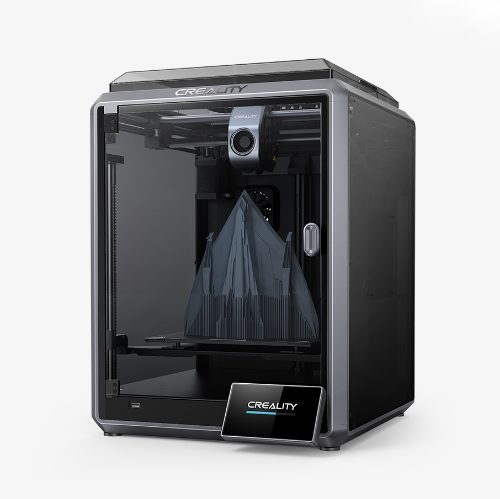 AI Technology: The K1 Max AI utilizes artificial intelligence for automatic calibration, bed leveling, and material recognition, simplifying the printing process.
Large Build Volume: With its generous build volume, you can create larger and more intricate prints.
Enclosed Design: The printer is fully enclosed, providing a controlled environment for printing, ideal for working with filaments sensitive to temperature variations.
High-Speed Printing: The AI technology not only enhances precision but also allows for faster printing, making your projects more efficient.
Compact Design: The K1 Speedy offers an enclosed design in a compact form, suitable for those with limited workspace.
Quiet Operation: The printer operates quietly, ensuring a peaceful printing environment without disturbing those around you.
Touchscreen Control: The touchscreen interface simplifies user interaction and settings adjustment.
Beginner-Friendly: The K1 Speedy is suitable for beginners while still offering the benefits of an enclosed printing environment for better print quality.
Industrial-Grade Stability: Tailor-made for industrial design applications, the Sermoon D3 ensures rapid, high-quality prints with stability and cost-effectiveness.
Precise Mechanics: With CNC-machined precision components and high-torque stepper motors, the printer minimizes mechanical errors and enhances printing accuracy.
Multi-Printer Control: Connect multiple Sermoon D3 printers for batch printing or divide large models into smaller parts with ease.
Smart Connectivity: Enjoy remote printing and monitoring via WiFi or Ethernet, providing a smarter way of working.
4.3: Top 3 Resin Printers
When your projects demand extraordinary detail and precision, our selection of top resin printers steps up to the plate. These machines excel in delivering intricate and high-quality prints.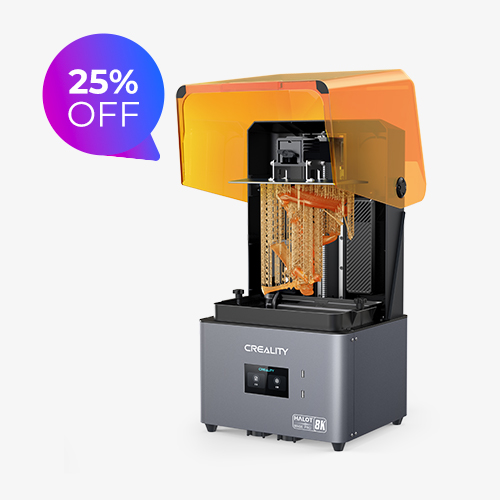 8K Resolution: With an 8K mono LCD screen, it boasts a remarkable 33,177,600 pixels and 29.7μm XY resolution for incredibly detailed prints.
Integral Light Source: The self-developed integrated light source ensures uniform light distribution for efficient curing and maximum model detail.
Orange "MageArch" Flip Lid: This practical flip lid effectively blocks ambient UV light, ensuring a controlled printing environment.
Odor-free Printing: It features an activated carbon filter that absorbs resinous odors and fumes, creating a fresh and odor-free printing atmosphere.
8K Precision: Similar to the Pro version, the HALOT-MAGE offers 8K resolution for remarkable detail.
Compact Design: Its compact size makes it suitable for smaller workspaces while maintaining high-quality printing.
User-friendly Workflow: The intuitive 4-stage workflow and presets simplify the printing process for users.
Creality Official Service: Enjoy professional after-sales service and support for your 3D printing needs.
Excellent Precision: The Halot-One boasts a 4K mono LCD screen for detailed prints with accuracy.
Compact and Sleek Design: Designed to fit well in any workspace with a stylish and space-saving appearance.
User-Friendly Operation: Easy-to-use and efficient, it's perfect for hobbyists and small-scale projects.
Efficient Resin Use: Minimizes resin waste, providing cost-effective printing for enthusiasts.
4.4: Top 3 Engravers
The world of engraving is captivating and creative, and our guide to the top 3 engraving machines unveils the perfect tools to bring your artistic visions to life.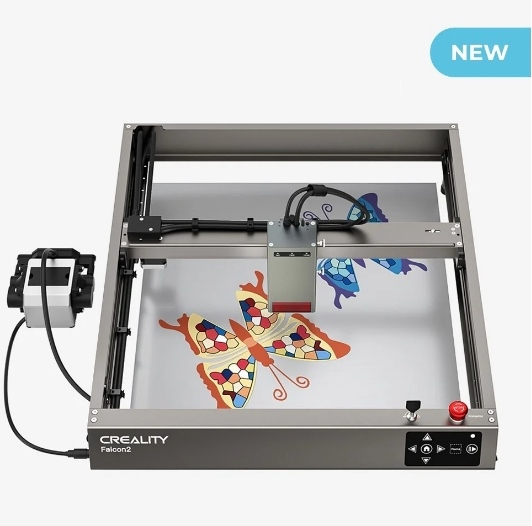 Powerful 40W laser for deep and precise engraving.
Spacious 20 x 28 inch working area for large projects.
Integrated air assist system for enhanced efficiency.
User-friendly digital display for precise control.
22W laser power for detailed and accurate engraving.
Auto-focus feature for automatic focal length adjustment.
16 x 16 inch working area for versatile projects.
Safety mechanisms for user protection during operation.
- Compact and portable 5W laser engraver for light tasks.
High precision on various materials.
User-friendly software for customization and ease of use.
Ideal for smaller-scale engraving and marking projects.
Bonus :Exclusive Deals
Our Black Friday event is packed with exclusive deals, from discounts to bundle offers. Learn how to access these special offers and maximize your savings. Get your own exclusive Black Friday deals with our event guide!
Don't miss out on these exclusive opportunities; they're designed to make your Black Friday unforgettable.
FAQs:
1.What is Black Friday, and when does it occur on Creality?
Black Friday is an annual shopping event that takes place on store.uk@creality.com and many other retailers' websites. The Creality Black Friday Mega Sale, running from November 10th to 28th, will kick off at 6:00 PM on November 9, 2023 PST.
2.Are there any special deals or discounts during Creality Black Friday event?
Yes, store.uk@creality.com offers exclusive deals and discounts on a wide range of products during our Black Friday event. You can find substantial savings on 3D printers, filaments, accessories, and more.
3.How can I stay updated on Creality Black Friday deals and offers?
To stay informed about our Black Friday deals, subscribe to our newsletter, follow us on social media, and regularly visit our blogs for updates.
4.Do Black Friday deals come with warranties and after-sales support?
Yes, products purchased during our Black Friday event are covered by their respective warranties and come with our standard after-sales support. If you have any questions or require assistance, please feel free to reach out to our customer service team at store.uk@creality.com.
5.What 3D printer is right for me?
Choosing the ideal 3D printer depends on your project's scale and requirements. Resin printers are excellent for intricate details, but remember they may need UV light to cure certain resins. FDM printers are popular, melting plastic filament to create layers. If you're new, consider starting with a 3D pen to learn the craft before investing in a larger printer. For personalized advice, consult our shopping guide or contact our website's customer service.
Conclusion
Creality's Black Friday 3D printing shopping guide is your ultimate companion for this exciting shopping season. From the finest products to exclusive deals, we're here to make your 3D printing dreams a reality. This Black Friday, let Creality be your guide to the future of 3D printing!