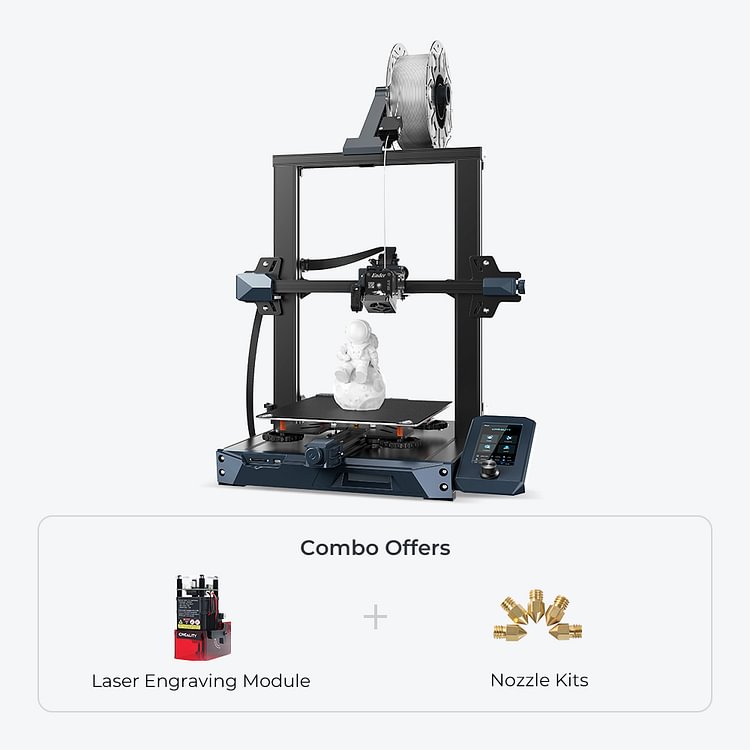 Take a Closer Look
Ender-3 S1 3D Printer
Modeling Technology: FDM(Fused Deposition Modeling)
Printer size: 487*453*622mm
Build size: 220*220*270mm
Supported filament: PLA/TPU/PETG/ABS
Printing layer thickness: 0.05-0.35mm
Printing speed: 150mm/s at the maximum
Printing precision: ±0.1mm
Maximum nozzle temperature: 260°C
Filament diameter: 1.75mm
Machine net weight: 9.1kg
Extruder gear ratio: 1:3.5
Automatic bed leveling: CR Touch
Printing platform: PC spring steel sheet
Screen: knob color screen
Rated voltage: 115/230v 50/60Hz 4.5/2.5A
Printing method: Type-C USB /SD card
Supported file format: STL/OBJ/AMF
Slicer/Cura/Repetier-Host/Simplify3D
FAQ
Ender-3 s1 product is 96% pre-assembled.
Generally, the printer can be assembled in 5-20 minutes.
The consumables rack is fixed to the top of the gantry. It is placed vertically on top and secured with screws.
Please tighten the eccentric nut on the back plate of the nozzle kit. After commissioning you can test by sliding it from side to side. Tight is stuck, loose is shaky
Two voltage steps, 115V and 230V, are available for adjustment on the printer power supply.
Current frequency: 50/60Hz with 24V DC output
Please adjust the printer power supply voltage to a suitable local voltage before using the printer
1. Please format the memory card to FAT32 format
2. Please check if the card slot is loose
3. Please wipe the card slot with a cotton swab dipped in alcohol to clean up the oxidation traces
4. Please replace the SD card slot