Klipper is another idea of firmware, in addition to Marlin as a common 3D printer firmware, that consists of an upper computer (A development board such as Raspberry Pi with Linux installed) and a lower motherboard (A 3D printer motherboard with many interfaces using chips such as mega2560/STM32).
When using Marlin firmware, the 3D printer motherboard is responsible for both computation and execution, but now the computation is mainly performed on the upper computer and the motherboard is mainly responsible for execution.
Features:
Ø High-precision stepper movement
Ø Support for printers with multiple microcontrollers
Ø Configuration through a simple configuration file
Ø Support "smooth pressure advance"
Ø Support "input shaping" to reduce the impact of vibration on print quality
Ø Use "Iterative Solver" to calculate exact step times from simple kinematic equations
Ø Simpler code
Ø Custom programmable macros
Ø Built-in API server
Core Features:
Ø High precision stepper motor movement control: powerful upper computer system completes the calculation and pre-processing part, making the overall movement more accurate.
Ø Pressure compensation: reduce nozzle overflow and improve model corner printing effect.
Ø Resonance suppression: reduce the surface vibration pattern of the model.
Ø Integration of multiple microcontrollers (MCU) resources.
Ø Extremely expandable: various functions can be customized.
Hardware:
Raspberry Pi, cell phones, X86 host / virtual machine, a variety of development motherboards, different product forms, the lack of specific and detailed information for the existing printer to upgrade the firmware to enhance the printing effect brings great inconvenience.
The benefit of Klipper is that it can significantly improve the performance of printers at a lower price, and even run multiple printers on one device, as well as network, allowing secondary development for more functionality. Kllipper API and Moonraker API interfaces are provided, and with the Linux operating system and custom macros, you can customize a wide variety of functions.

However, to help people get started quickly with the Klipper firmware, enjoy the fun of printing, have an out-of-the-box experience, and support many common models and printer motherboards, we have released the Creality Sonic Pad, which is a 3d printing pad based on the kipper firmware.
Ø Highly integrated with strong computing power
All-in-one integration, efficient and hassle-free.
Ø Easy installation and easy to use
Connects to 3D printers via USB cable, suitable for most FDM 3D printers on the market, with a wide range of applications.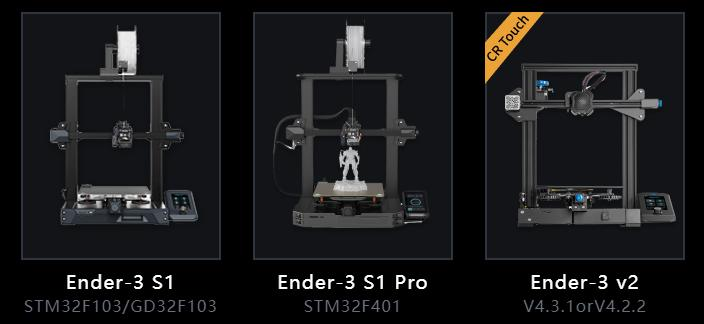 *Support quick adaptation for Ender-3S1/Ender-3S1Pro/Ender-3V2.
Ø Speed up printing but keep the quality
It uses precision-oriented algorithms to command the motors for higher printing speed. The built-in input shaper function will mitigate oscillation during high-speed printing and smooth out ringing, thus keeping the model quality.
Ø Intuitive Model Preview
Creality Sonic Pad supports G-Code model preview when slicing with the Creality Print, UItimaker Cura, Pursa Slicer, and Super Slicer.
*CrealityPrint cut models support real-time preview of print progress.
Ø Deft with user-defined macros
Creality sonic pad supports user-defined programmable macros, with multiple functions easily achieved.
* Macro, a term for a batch process, is a program that stores a series of commands. When you create a macro command, you are simply combining a series of keyboard inputs into a simple command. This allows for quick and easy setup operations.
Ø Rich extensible interfaces
Use port*4, RJ45 port *1 and WiFi module (supports WiFi 802.11b/g/n) *1 are included.
* Connect USB camera to achieve time-lapse photography function
Ø Control access from multiple platforms
It can be operated either by the built-in touch screen or remotely from the web UI when connected at a LAN.
Ø Get new functions at the earliest time
Creallity Sonic Pad OS can be upgraded online via OTA or offline via USB disk.
*OTA: Over-the-Air download technology, automatically downloads upgrade packages and upgrades automatically through the network
Ø Open source commitment
It follows the rules of open source community. Users will be free to modify and customize the source code.
Ø Other functions
Connect to the Creality Cloud to realize cloud slicing and remote control, remote monitoring, sharing model library and others.
Access synchronization control for multiple printers.
Pay attention to www.creality.com to get the newest upgrades on Creality sonic pad.