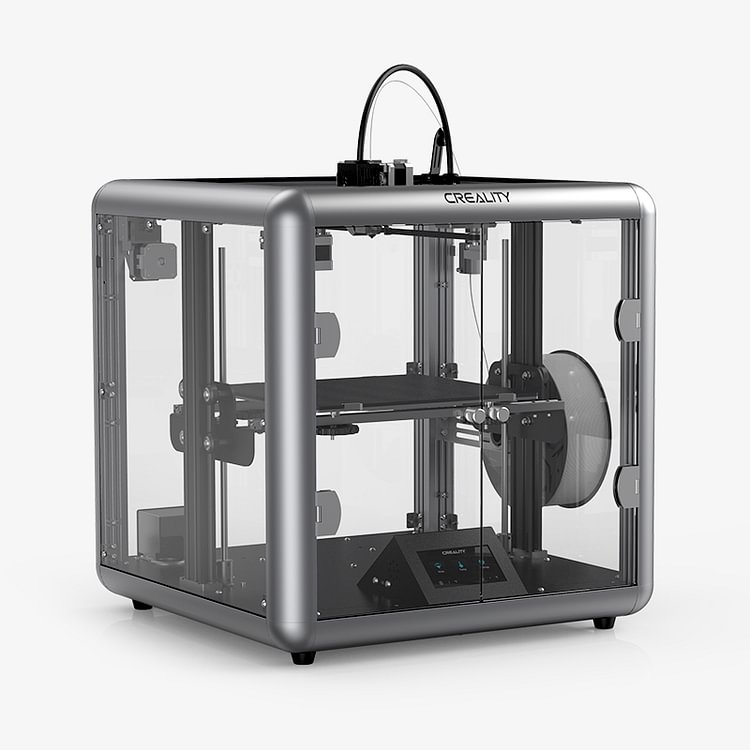 Take a Closer Look
Sermoon D1 3D Printer
Modeling Technology: FDM(Fused Deposition Modeling)
Layer thickness: 0.1-0.4mm
Printing accuracy: ±0.1mm
Print size: 280*260*310mm
Hotbed temperature: ≤100°C
Nozzle temperature: ≤260°C
Supported filament: PLA/ABS/TPU/PETG
Display: 4.3-inch touch screen
Power supply: AC 100-240V, DC 24V
Nozzle diameter: Standard 0.4mm, optional 0.2mm/0.8mm/1.2mm
FAQ
The whole machine structure, no need to install, just install the filament holder according to the manual.
Knob type, rotate the knob to select the item, press the knob to confirm the selected item
Manual temperature setting requires us to set the appropriate printing temperature. Automatic temperature setting mainly includes PLA and ABS options. If you select one of them, the machine will automatically start heating according to the temperature set by the program
Start up -control- temperature- nozzle temperature set 200 ℃, cut off the front end of the filament an angle of 45 degrees, straighten the front part of the filament, first pass through the break detection device, and then press and hold the extrusion clamp to send the filament into the Teflon pipe along the hole of the extruder until it flowing out from the nozzle .
Keep the nozzle at 200 degrees, hold the extrusion clamp, push the filament forward a little, then pull them out quickly, and then load the new filament.(If the machine is printing, you need to pause printing before proceeding to this step)