Today, we're introducing the Creality Laser Module, designed for precision and versatility, which easily transforms your 3D printer into a powerful laser engraver. Enhance your printing experience with the seamless integration of Creality Laser Modules. Let's take a closer look at the technical specifications and safety instructions for using the laser module.
Creality Laser Model Specs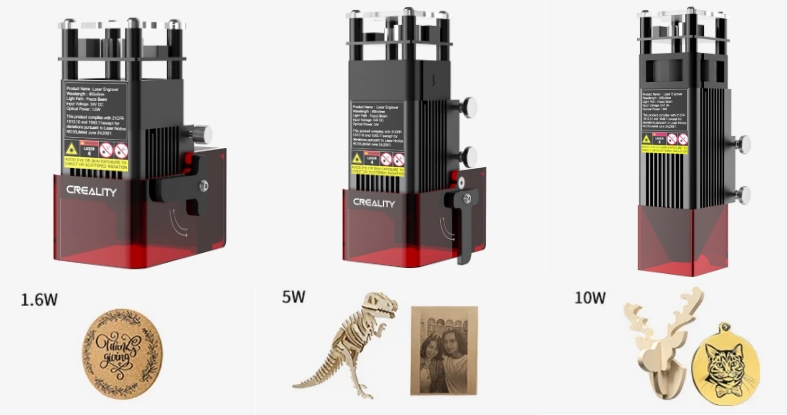 The module is available in three wattage options, Laser Module 1.6W, 5W, 10W, which are detailed below. Buy 1 and get 5% off, or double your savings with 15% off when you buy 2. Enhance your experience by spending £150 to get 1 free gift, or go further with £250 and unlock 2 free gifts. Take advantage of this opportunity to enhance your creativity while enjoying great savings and free gifts.
Product Name
Creality Laser Module 1.6W
Creality Laser Module 5W
Creality Laser Module 10W
Laser Power
1.6W
5W
10W
Net Weight
1.0kg
1.1kg
1.1kg
Gross Weight
1.3kg
1.4kg
1.4kg
Cutting Capacity

Cut 0.05mm balsa wood

with one pass

Cut 5mm balsa wood

with one pass

Cut 12mm balsa wood

with one pass

Spot Size
0.05~0.1mm
0.06mm
0.06mm
Laser Wavelength
450±5nm
455±5nm
455±5nm
Resolution
254 dpi
254 dpi
254 dpi
Laser Source
Semiconductor Laser
Semiconductor Laser
Semiconductor Laser
Input Voltage
100-240V~ 50-60Hz
Output Voltage
DC 24.0V 3.0A
Working Temperature Range
0℃-35℃
Safety Level
Class IV (FDA classification standard)
Laser Engraving Software
LaserGRBL, LightBurn
File Format
svg,png,jpg,jpeg,bmp,dxf
Support Materials Type
Cardboard, wood, bamboo, rubber, leather, fabric, acrylic, plastic, etc.
Supported Printer Models

Ender-2 Pro、Ender-3、Ender-3 Pro、Ender-3 Neo、Ender-3 Max Neo、Ender-3 S1、

Ender-3 S1 Pro、Ender-3 S1 Plus、Ender-3 V2、Ender-3 V2 Neo、CR-10、CR-10 Mini
Also Read: Creality Falcon2 22W Laser Engraver Specs
Creality Laser Models Safety Precautions
Using the high-density laser beam to heat up the workpiece surface when engraving or cutting aims togasify without combustion. However, most workpieces are inherently combustible, which can be ignited, resulting in open fire, machine breakdown, and environmental contamination.
Please observe the following operating principles:
1. It is prohibited to store the machine in the vicinity of flammable and explosive substances, volatile solvents or heat sources. Instead, store it in a well-ventilated, cool, and dust-free environment;
2. Make sure to use only the provided power cord and not other similar power cords during installation.
3. Clean the cabinet and laser module periodically with a dry cloth when the power is turned off.
4. Make sure to operate the laser at 0°C-35°C, it is prohibited to operate the machine in a humid environment or in thunderstorm weather.
5. Turn off the machine and unplug the power cord when not in use for an extended period of time.
6. It is forbidden to touch the electronic parts with hands or other tools when the machine is connected to the power supply; it is strictly forbidden to connect and disconnect the power cords of the laser module while the power is on.
7. Do not touch any moving parts and laser module while the machine is running;
8. Be sure to place a laser-impenetrable flat object, such as an aluminum alloy or stainless steel plate, under the material to be processed.
9. During laser operation, wear protective goggles to prevent eye damage caused by exposure to the laser spot.
10. It is recommended to operate the machine in a well-ventilated environment, as laser engraving may generate a small amount of smoke or gas.
11. Do not allow children under the age of 10 to operate the machine without adult supervision, as injury may result.
12. Provide fire extinguishers in case of use, which should be checked regularly.
13. Do not leave the machine unattended while it is running.
14. When previewing, make sure the laser is within the range of the platform. If it exceeds the edge of the platform, please adjust the position according to the actual situation.
Also Read: Safety protection of Falcon2
Conclusion
As we conclude our exploration of the Creality Laser Module specifications, the door to creative innovation is wide open. Now, armed with insight into the capabilities of this cutting-edge module, we invite you to choose the perfect companion for your creative endeavors-whether it's an Ender Series or CR Series printer. Unleash your imagination, personalize your projects, and create the products you love. The journey to extraordinary creations begins with the perfect pairing of your vision and the right 3D printer.