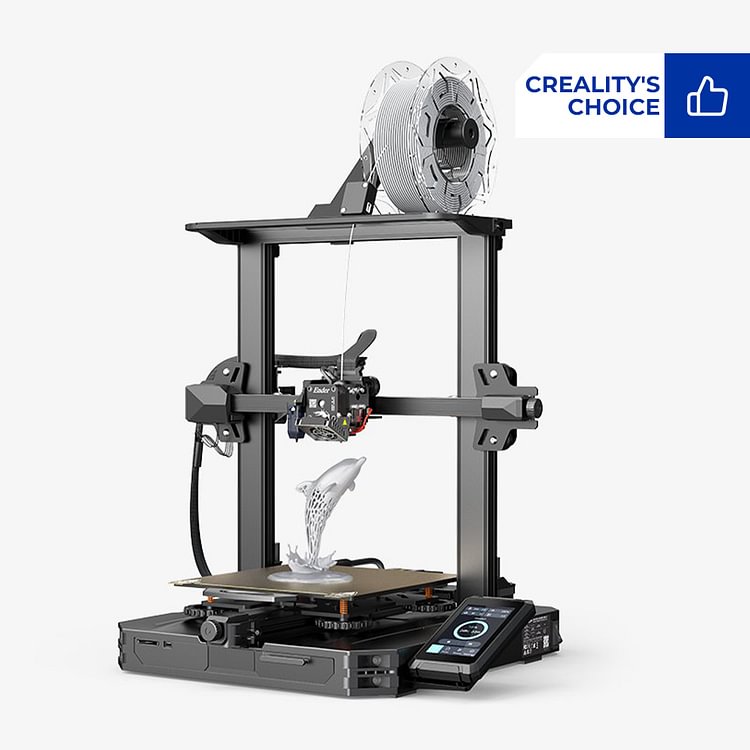 Take a Closer Look
FAQ
Ender-3 s1 pro is 96% pre-assembled.
Generally, the printer can be assembled in 5-20 minutes.
The consumables rack is fixed to the top of the gantry. It is placed vertically on top and secured with screws.
Please tighten the eccentric nut on the back plate of the nozzle kit. After commissioning you can test by sliding it from side to side. Tight is stuck, loose is shaky
Two voltage steps, 115V and 230V, are available for adjustment on the printer power supply.
Current frequency: 50/60Hz with 24V DC output
Please adjust the printer power supply voltage to a suitable local voltage before using the printer
1. Please format the memory card to FAT32 format
2. Please check if the card slot is loose
3. Please wipe the card slot with a cotton swab dipped in alcohol to clean up the oxidation traces
4. Please replace the SD card slot
No installation is required by default. When the auto-leveling CR-Touch fails, the Z-axis limit switch needs to be installed, and manual leveling is needed.
Default 0.4mm, can be replaced by 0.2, 0.6, 0.8 and other hole diameter nozzle, while the layer height and wall thickness slicing software also need to be modified simultaneously.
The maximum printing speed can reach150mm/s, but 60-80mm/s printing speed is recommended.
All-metal dual-gear direct extruder.
Creality/Cura/Simplify3D.
The machine can print for up to 200 hours continuously.
The overall power rating of the machine is 350W with low power consumption
1-year after-sales service for the printer and 3-month service for the nozzle kits.
Turn on the machine - prepare - feed/unload - nozzle temperature - set the temperature above 185°C. Cut off the front end of the filaments at a 45 degree angle and straighten filaments in front, put the filaments through the breakout detection hole first, followed by pressing the extruder handle and let the filaments insert along the extruder hole again until the nozzle position. When the temperature reaches the set target value, you can see the filaments flowing out at the nozzle and the loading is completed.
No.If the printed model fails to adhere well to the build plate, leveling may be needed.
Yes. Laser engraving accessories can be purchased in Creality's official store.