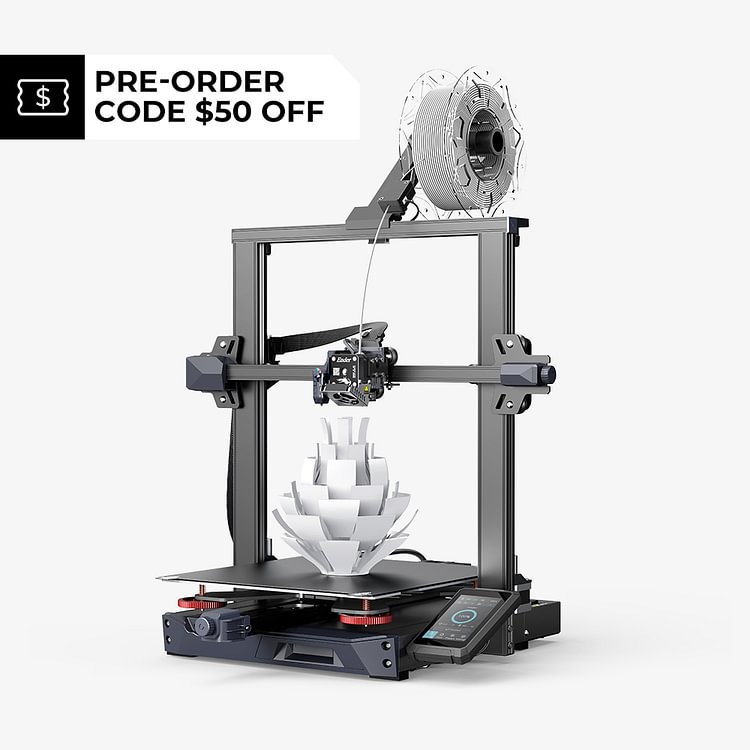 Notice
1. Once your order placed, you will receive an email with a 50$ coupon code for the coming Ender 3 S1 Plus within 3 days.
2. You can redeem the coupon code from June 1 to 8 or July 15 to 22 on our official store.
3. Please don't share coupon with others, which might cause an invalid redemption.
4. Codes valid from May 24 to July 31 and we suggest you redeem your code asap since the Ender 3 S1 Plus has limited stock. If you failed to reddem your coupon code during June 1 to 8, you can ask to refund your 1$ presale order or you can redeem your code on July 15.
5. All rights served by Creality.
Take a Closer Look
Ender-3 S1 Plus 3D Printer
Modeling Technology: FDM(Fused Deposition Modeling)
Build Volume: 300*300*300mm
Machine Dimension: 557*535*655mm
Package Dimension: 625*590*230mm
Printing Speed: maximum 100 mm/s
Printing Precision: 100mm±0.2mm
Filament Diameter: 1.75 mm
Nozzle Temperature: up to 260°C
Heat Bed Temperature: Up to 100°C
Build Surface: Spring steel PC magnetic build plate
Leveling Mode: Auto-leveling with CR-Touch
Display: 4.3-inch color touch screen
Motherboard: 32-bit silent motherboard
Rated Voltage: 100-120V, 220-240V, 50/60 Hz
Data Transmission Method: Type-C USB/ SD card
3D File Format: STL/OBJ/AMF
Supported Filament: PLA/ABS/TPU/PETG
Supported Language: Chinese, English, Spanish, German, French, Portuguese, Italian,Russian and Turkish
Extruder: "Sprite" Full-metal Dual-gear Direct Extruder
Slicing Software: Creality Slicer/Cura/Repetier-Host/Simplify3D
FAQ
The printer is 96% preinstalled. Therefore, the assembly takes only 5 to 20 minutes.
It is stuck on the gantry.
Tighten the eccentric nut on the back panel of the nozzle kit. After debugging, it can slide left and right. If it is tight, it will freeze, and if it is loose, it will shake.
Adjust the eccentric nut at the V wheel of the hot bed. If it is too loose, it will shake, and if it is too tight, it will freeze.
It is necessary to adjust the screw nut after installing of the screw rod, so that the axis of the up and down movement is consistent, to maintain smooth movement.
No installation is required by default. When the auto-leveling CR-Touch fails, the Z-axis limit switch needs to be installed, and manual leveling is needed.
It is a single nozzle structure and does not support two-color printing.
It supports offline printing and online printing, and offline printing is generally recommended.
The nozzle and hot bed are automatically cooled after printing. If you don't need to continue printing the model, you can turn off the machine.