The K1 and K1 Max are two exceptional models of FDM (Fused Deposition Modeling) 3D printers. Both models support a variety of filaments, including PLA, Hyper PLA, PETG, ABS, and TPU. They both have a printing accuracy of 100±0.1mm and a layer height range of 0.1-0.35mm. The filament diameter for both models is 1.75mm and they each have a flexible build plate.
These printers, while belonging to the same product line, offer different features, specifications, and user experiences. This article aims to provide an in-depth comparison between the Creality K1 and the K1 Max, helping potential buyers make an informed decision.
Part 1:K1 vs K1 Max: Differences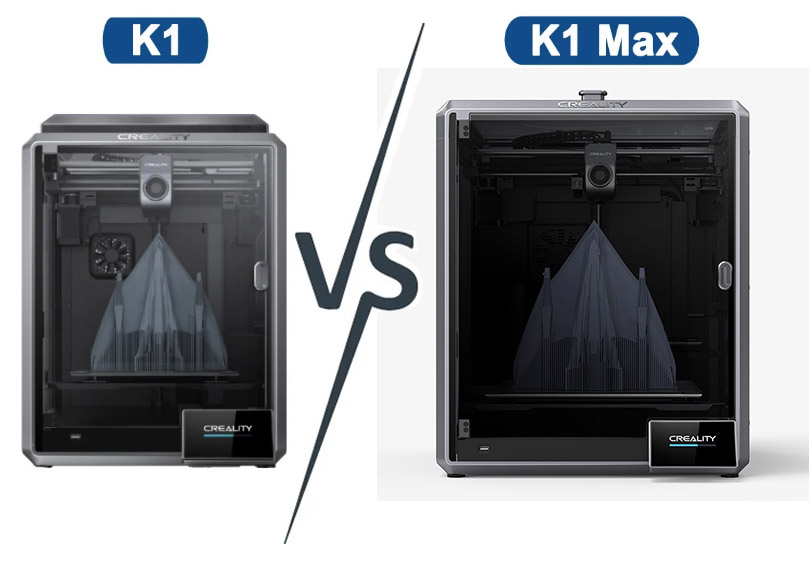 Below are all the specs that are different listed and compared. Have a quick look what the differences between Creality K1 and Creality K1 Max
| | | |
| --- | --- | --- |
| Model | K1 | K1 Max |
| Printing Technology | FDM | FDM |
| Build Volume | 220*220*250mm | 300*300*300mm |
| Product Dimensions | 355*355*480mm | 435*462*526mm |
| Package Dimensions | 415*415*550mm | 508*508*608mm |
| Net Weight | 12.5kg | 18kg |
| Gross Weight | 16kg | 23kg |
| Supported Filaments | PLA, Hyper PLA, PETG, ABS, TPU,ABS,PA | PLA, Hyper PLA, PETG, ABS, TPU,ABS,PA |
| Printing Accuracy | 100±0.1mm | 100mm±0.1 |
| Layer Height | 0.1-0.35mm | 0.1-0.35mm |
| Filament Diameter | 1.75mm | 1.75mm |
| Build Surface | Flexible build plate | Flexible build plate |
| Heatbed Temperature | 100℃ | 100℃ |
| Nozzle Temperature | 300℃ | 300℃ |
| Nozzle | Copper Alloy | Hardened Steel |
| Extruder Count | 1 | 1 |
| Nozzle Diameter | 0.4mm | 0.4mm |
| Printing Speed | 300mm/s | 300mm/s |
| Max. Printing Speed | ≤600mm/s,≤20000mm/s² | ≤600mm/s,≤20000mm/s² |
| Display Screen | 4.3" color touch screen | 4.3" color touch screen |
| UI Languages | 10 Languages | 10 Languages |
| Rated Input Voltage | 100-120V~/200-240V~ | 100-240V~ |
| Output Voltage of Power Adapter | 24V | 24V |
| Rated Power | 350W | 1000W |
| Silent Mainboard | Yes | Yes |
| Extruder | Dual-gear direct drive extruder | Dual-gear direct drive extruder |
| Power Loss Recovery | √ | √ |
| Filament Runout Sensor | √ | √ |
| Dual Z-axis | 3 Z-axis | 3 Z-axis |
| Leveling Mode | Hands-free auto leveling | Dual hands-free auto leveling |
| Remote Printing | Yes | Yes |
| Enclosure | Yes | Yes |
| Remark | AI Camera(Optional), AI LiDAR(Optional) | AI Camera, AI LiDAR |
| Current Price | $399 $599 | $719 $899 |
Note: The price displayed is subject to fluctuations and is for reference purposes only; kindly check the actual price on the date of placing your order.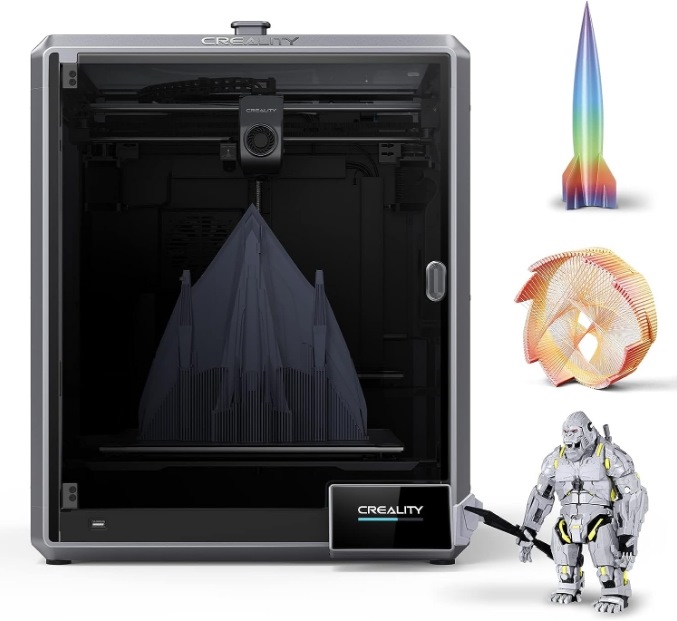 The Creality K1 Max is a high-performance 3D printer that offers excellent printing precision and consistency. It uses FDM technology, which ensures high-quality prints with smooth surfaces and intricate details. Its large build volume of 300x300x300mm allows for printing bigger models without the need for splitting or joining parts.
The K1 Max features a high-quality touch screen interface that provides easy navigation and controls. Its dual Z-axis design and sturdy frame structure ensure stable and accurate prints. One of the standout features of the K1 Max is its silent printing capability, which significantly reduces noise and provides a quiet working environment. The printer also has an auto-leveling function, which simplifies the calibration process and ensures optimal printing quality.
The Creality K1 Max also supports a variety of filaments, including PLA, ABS, PETG, and more, providing users with a wide range of options for their printing projects. Overall, the Creality K1 Max is a reliable, efficient, and versatile 3D printer that delivers high-quality results.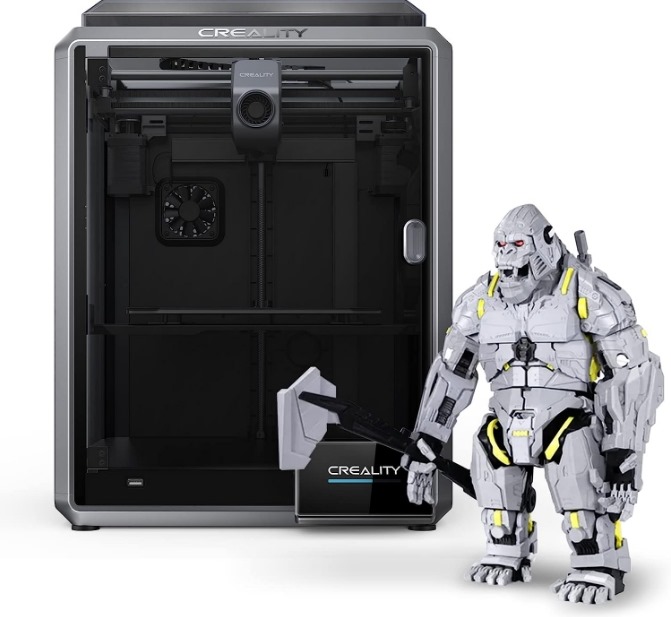 The Creality K1 is a compact and affordable 3D printer that is perfect for beginners and hobbyists. Despite its small size, the K1 offers a decent printing volume of 220x220x250mm, which is enough for most small to medium-sized projects. It features a simple and intuitive interface that makes it easy to set up and operate.
The build quality of the K1 is commendable, with a sturdy metal frame that provides stability during the printing process. The printer uses FDM technology, delivering good print quality with a resolution of up to 0.1mm. It also supports a range of filaments, including PLA and ABS, offering flexibility in printing materials.
The Creality K1 also boasts a quiet operation, making it ideal for home use. One of its unique features is the resume printing function, which allows the printer to continue printing after a power outage or filament change, reducing the risk of print failures. In conclusion, the Creality K1 is a great entry-level 3D printer that offers good value for its price.
Part 4: Which one should you buy? K1 or K1 Max?
The choice between the K1 and K1 Max largely depends on your individual needs, preferences, and budget.
If you prioritize performance and advanced features, then the K1 Max could be the better option for you. With its higher storage capacity, faster processor, and extra features, it offers superior performance and efficiency. This makes it perfect for heavy users who need a device for demanding tasks like gaming, multitasking, or professional use.
On the other hand, if you're looking for a more affordable option and don't require the high-end features that the K1 Max offers, then the K1 could suit your needs. It still offers a decent performance, but at a more budget-friendly price point. This makes it a great choice for casual users or those who only need a device for basic tasks like web browsing, checking emails, or watching videos.
Ultimately, both the K1 and K1 Max have their own strengths and can cater to different types of users. So, you should consider your individual needs and preferences when deciding which one to buy. If budget is not a concern and you want the best performance, opt for the K1 Max. However, if you want to save money and still get a decent performance, the K1 could be the better choice.
Conclusion
In conclusion, while the K1 and K1 Max share many features, the K1 Max offers a larger build volume, higher heatbed temperature, and more standard features.
Despite these differences, both printers uphold Creality's commitment to quality, making them excellent choices for anyone looking to venture into 3D printing.