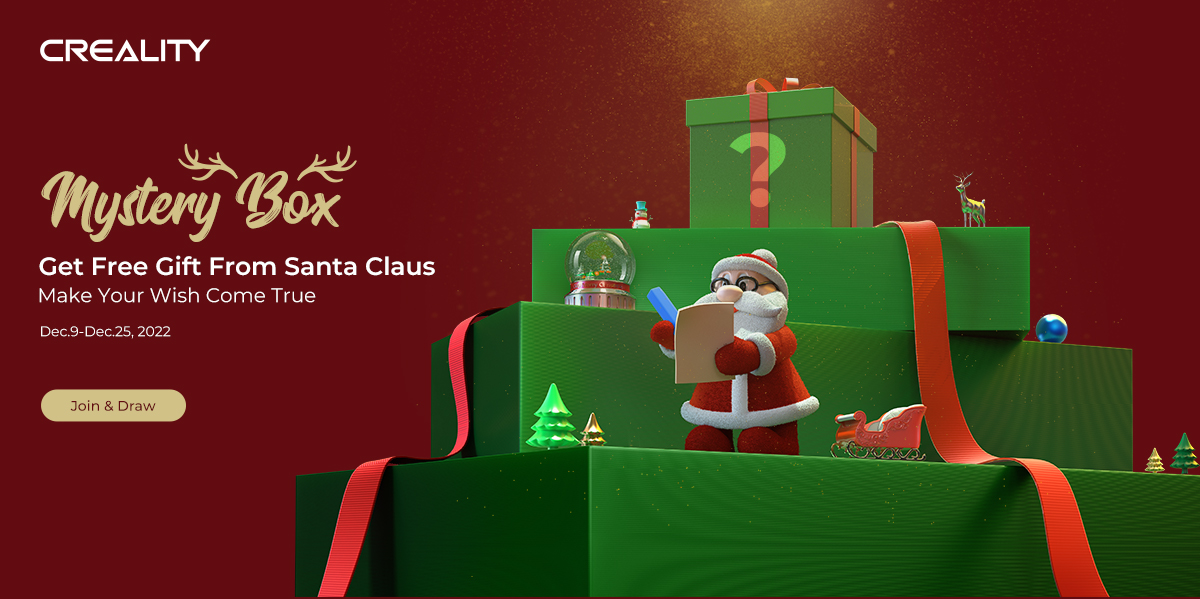 Hi there, Merry Christmas to you all!
The spirit of Christmas is in the air! You've probably spent at least a little bit of time thinking about what you want this year.
However, one can never have enough socks. We will insist on giving the chance to draw your printers.
That's also why this year, we'll be playing the role of Santa!
How to Join:
Draw Gift From Santa is divided into two steps:
Step 1:
Submit your mail to sign in. In this step, we will randomly draw one to award a mystery printer (Ender series)
Step 2:
Share the Christmas fantastic things around you, with the tag #Creality.
Also, in this step, we will randomly draw one person to give a mystery FDM 3D printer as a surprising gifts. (The higher chance to win in this step)
Details:
1. Winners will be randomly drawn from all successful entries.
2. Prizes Include: Mysterious 3D Printer - 2 Winners
3. Activity Time: Dec. 9 to Dec. 25/ Announcement time: Dec. 28, 2022
4. Creality reserves the right to final explanation
5. All winners need to provide the correct mailing address within the specified time. If the address is not provided in time or the address is wrong, it will be regarded as forfeiture of prizes.
6. All user works participating in the competition agree to be used by Creality for secondary promotion by default. Of course, we will mark the source.
That's all! Hope all of you merry Christmas. Good luck everyone.
If you want to pick more Christmas super sales, shop it now.